Mini-trampolines are becoming a bit of a sensation. They allow you to jump and exercise at home in smaller spaces. Mini-trampolines are also called rebounders and there are many companies that create these mini-trampolines now. I've tried many of them. The brands from costco, amazon and others and I simply wasn't happy with the rebounders until I found the bellicon.
How Are Bellicon Trampolines Compared To Other Brands?
Visit Bellicon's website here.
The bellicon is a mini-trampoline rebounder that was engineered in Germany. The design is lightweight, minimal and most importantly quiet! It's an incredibly functional trampoline as compared to other rebounders because the design is simply better. It's a smoother and more fluid experience. It feels more natural.
Most rebounders use metal springs. The bellicon rebounder uses lightweight and flexible bungees. This is better for a few reasons. First, the rebounder is much quieter when you jump. The springs make a loud squeaking noise over time and it gets very annoying after a while. It's an abrasive sound. The bellicon on the other hand is quiet and smooth. You can see all customization options at Bellicon.com.
Bellicon's Customization Options Include:
While most mini-trampoline rebounders on the market come in one color and style bellicon is incredibly customizable which I personally like. You will pay more if you want to customize it more, but what's nice is that if you have an entire family using it you may want a model that has a wider diameter, and stronger bands as it's being used by more people more often.
Customization options include but are not limited to:
Diameter of the trampoline (39 inch, 44 inch & 49 inch)
Lip that covers the bands to prevent from landing in them.
Fold in legs for ease of use when it comes to storing your tramp.
The ability to change the color of the bands
Plus, more!
The bellicon premium and bellicon classic have more customization options. If you simply want a rebounder to jump on you can pay $200 less by getting the bellicon go, which is what my sister got and loves it. Visit Bellicon.com to see different models by clicking here. 
Bellicon Trampoline Rebounder Reviews:
Bellicon rebounders are simply the best trampoline on the market. I've tried 3 or 4 now and landed on the bellicon. There is no bellicon rebounder alternative in my mind. This trampoline will last many years and has customization options and features that other trampolines simply don't have such as:
Bungees instead of springs
Legs that can fold in for easy storage
A much quieter bounce
Customization of bungee colors along with a pad to protect your feet
And much more! Bellicon allows for full customization of your trampoline from your trampoline size to the bungee strength (based on weight) to the bungee color as well as padding around the outside.Additionally they allow Legs that fold in or legs that screw in for easy storage. They also just released their cheapest bellicon trampoline yet. The bellicon go for just $499. They also offer financing options, there's no excuse. Grab a bellicon today. You'll be glad you did. I hope these videos sharing bellicon trampoline rebounder reviews were valuable for you.
Should You Go Barefoot Or Wear Shoes on The Bellicon Rebounder?
Honestly, you can do whatever you'd like. I personally prefer to go barefoot. Most shoes are not made with biomechanics in mind so they are bad for your posture, unless they are xero shoes which are engineered for strong posture and healthy biomechanics, click here to visit xero shoes. I personally recommend, and like going barefoot because the tramp is somewhat small so going barefoot feels more natural and organic jumping. Even as a kid when I jumped on a large trampoline we'd take off our shoes and go barefoot. You'll build stronger feet, ankles and legs by going barefoot.
How Do I Get The Most Benefit From My Bellicon Trampoline?
In order to get the most health benefits from your new bellicon rebounder trampoline you'll want to jump on it as much as possible. I jump on the bellicon rebounder every single day and absolutely love it. It gets my heart rate up, moves my blood and is quite literally one of the best lymphatic drainage exercises out there which is why I really love it. Simply jump on the bellicon and utilize different movement patterns to activate different muscle groups. There are free rebounder workout videos on youtube. I will put a few more out on the Healthy Wild Free youtube channel to make it easier for you.
Ready To Bounce? Rebound With Bellicon. Click Here To Visit Bellicon.com For Free Shipping! 
Bellicon Rebounder Trainers:
If you'd prefer to have a more constructed workout regimen and a coach to guide you with training bellicon offers additional training through Bellicon Live, their monthly subscription that comes with a variety of trainers, 17 all in all. This allows you to have a more structured regimen for staying consistent with workouts on your new trampoline.
What is the Difference Between The Bellicon Go & Other Rebounder Models?
The bellicon GO requires self assembly, the frame is in three parts that you screw together, attach the bungees and mat. There isn't any customization options for it so it is available in a 44″ diameter, powder coated black steel frame, black bungees, grey trim on the mat and screw in legs. The assembly is easy and straight forward takes about 15-20 minutes.
Compared to the Original models that the frame is one solid piece, will arrive assembled, there are different size options and customization options. The pricing difference for self-assembly is quite nice. You have a $499 cost for the Bellicon Go as compared to a $699 for the Bellicon classic or premium for the same 44-inch diameter trampoline.
The bounce and feel of both types will be the same and function the same. I have jumped on the bellicon classic, the bellicon premium and as of recent the bellicon go which my sister got for her home in the video below.
Watch the video below to see the Bellicon Go as compared to the bellicon classic and the bellicon premium in the above videos on this page.
Does Bellicon Offer Financing?
Yes, Bellicon offers 0% APY Financing For All Bellicon Models. They are partnered with klarna. A financing company that allows you to finance your bellicon purchase. The bellicon models also come with a full lifetime warranty on the bellicon frames, not the bungees or fabric itself, which is understandable as you could cut it. The frame is solid however. They also offer free shipping to the United States on Bellicon rebounders by visiting Bellicon.com through this link.
The average review of the bellicon rebounder from users of the trampoline is 4.5 stars based on 331 reviews, verified by trustpilot.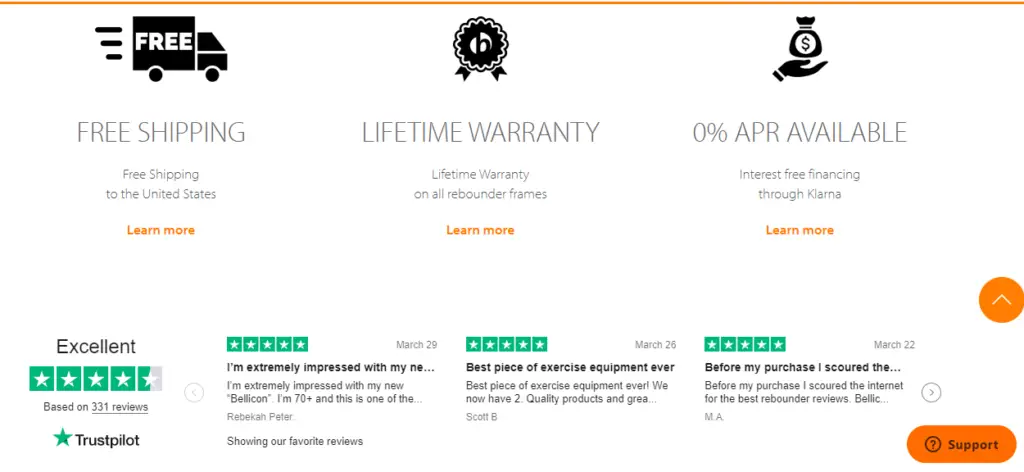 Who Recommends Rebounding?
I first discovered rebounding from a superfood teacher by the name of David Avocado Wolfe, he has a large facebook following and was sharing how valuable rebounding is for health and well-being. I then learned about rebounding on mini-trampolines from other health coaches, nutritionists and lymphatic drainage experts. It turns out that everyone from doctors, to nurses, to chiropractors and lymphatic experts, even university professors recommend bouncing on the bellicon rebounder. Take a look at some of the health and wellness experts say about the bellicon reounder below:


Dr. Dough Graham, Dr. Peter Levine and Dr. Donald Liebell are just a few health and wellness experts that recommend the bellicon trampoline.
I have found that the bellicon rebounder circulates my blood quality and removes any lymphatic stagnancy that I have very quickly. It gets my lymphatic system drained quickly, boosts my energy and allows me to focus on the next task at hand. I love the bellicon rebounder and use it multiple times daily! It's a great tool to take during work breaks from the computer! I find it to be the best exercise (this paired with swimming) are excellent on my knees which I had knee pain with in the past. With anyone that has sensitive ankles, knees, hip or back pain.. this is your fitness device!

– David Benjamin
Founder: HealthyWildFree.com
If you're ready to take your health to the next level and feel ready to level up. Grab your bellicon rebounder today. The reviews are positive, people love their mini-trampolines and use them often because you feel like a kid again when you use one.
Click Here To Visit Bellicon.com and get free shipping, and financing if you need it!