The National Park Service was created on August 25, 1916, after an act was signed to create a new federal bureau in the Department of the Interior.
The Department became responsible for protecting the 35 national parks and monuments.
Since then, the number of national parks in the United States has grown to 423, spanning 84 million acres while also including island locales like Puerto Rico, the Virgin Islands, American Samoa, and Guam.
Attendance for these parks has grown tremendously in the past year, and the trend shows no signs of slowing (Zion, Yellowstone, and five other parks set visitation records in the month of June).
Visitors should be especially careful while driving, hiking, biking and visiting, however, as the latest stats show, as three of the nation's favorite all-time parks are among those with surprisingly high death rates among tourists.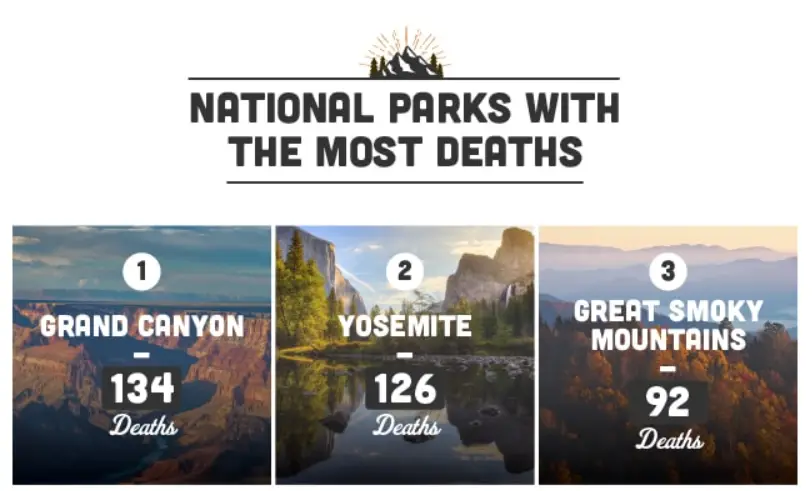 The Top Ten Deadliest National Parks
Information on deaths and causes of deaths at these parks was uncovered through a Freedom of Information Act Request by the website Outforia.com, which found startling information on how many people have died from 2010 through 2020.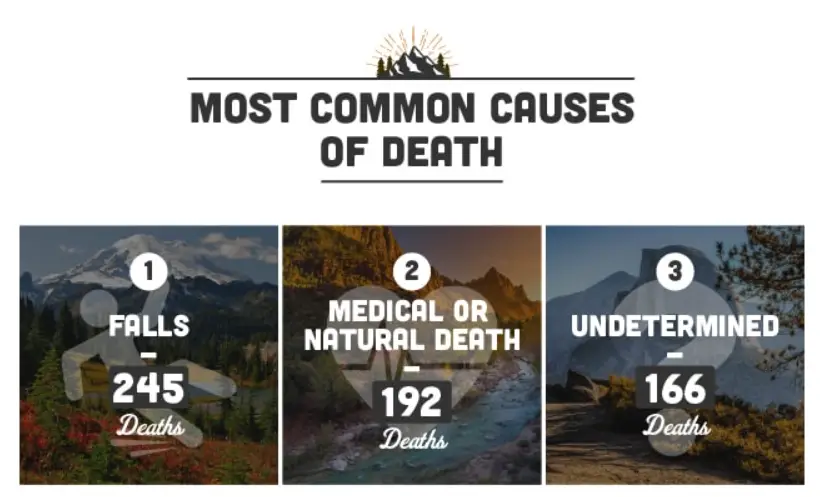 The most common cause of death was falls at 245, while medical/natural deaths were listed at 192 and "undetermined" came in third at 166.
The total number of wildlife and animal-related deaths was six, believe it or not.
Over 1,000 people have lost their lives at national parks since 2010.
Here are the 10 parks where the most tourists have lost their lives:
While these parks are beautiful, they can be dangerous, too.
1. Grand Canyon-
A total of 134 deaths have happened since 2010, including at least 27 from falls and 42 from medical or natural causes.
Temperatures can reach 110 degrees or higher within the canyons.
According to the National Parks Service, hikers should bring lots of water, electrolyte drinks (like this one which is packed with organic fruits and mineral salts), salty foods (the NPS recommends eating twice as much food as usual), first aid kits and maps.
Backpacks, a flashlight with spare batteries, a spray bottle for misting yourself on the trails, a hat and/or sunscreen (choose something natural and/or organic like this one), a whistle and/or signal mirror, and waterproof ponchos or other clothing, especially from mid-July to early September (monsoon season), are also recommended.
Many of these tips apply to other parks including the ones on this list.
Consult a holistic doctor and a park ranger if you have any questions.
2. Yosemite-
The FOIA request found that 126 people have lost their lives at Yosemite in the last decade including 45 from falls.
Taft point, Nevada Fall and Half Dome have all seen deaths over the last few years, often during photo-ops by tourists, the website said.
3. Great Smoky Mountains-
A total of 92 people have died in The Great Smokies in the last 10 years, with motor vehicle crashes listed as the number one cause (37 deaths).
4. Sequoia & Kings Canyon-
Located in California, this park had the third highest number of deaths by falling with 25, along with 75 total deaths this past decade.
One man fell 500 feet from a ridge on the summit of Mount Russell, park officials said.
Always be aware of your surroundings and take your time whenever you are taking pictures or exploring at high elevation.
5. Yellowstone-
Out of over 4,000,000 visitors there have been 52 deaths here in the last 10 years, including the highest number of wild animal attack-related deaths with three.
6. Denali-
Home to grizzly bears and other large animals, the Alaskan park only recorded one animal-related death in the last 10 years according to the data. 
There were at least 14 falling deaths, however, part of 51 total in the last decade.
6. (tie) Mt. Rainier-
Located in Washington state, this park recorded 19 falling deaths in the past decade along with 51 deaths total.
8. Rocky Mountain-
This park recorded at least 18 falling deaths, as part of 49 total over the last 10 years.
9. Grand Teton-
This Wyoming park had 21 falling deaths along with 48 deaths total.
10. Zion-
This increasingly popular Utah haven recorded 22 falling deaths along with 42 deaths total.
The famous Angels Landing is one of its most harrowing spots. 
https://www.youtube.com/watch?v=UvJ2puG8gNI

The full list of all 54 parks, including the six that had zero deaths in the last decade, can be viewed here.

Thanks to Outforia.com for uncovering this information, and stay safe out there everyone (you may want to check out this hiking guide before getting started on your next big adventure)!
------------------------------------------------------------
---