Living off-grid seems to be a dream only for idealist but these communities below will throw that theory out of the water. Why live off-grid alone when you can build a future with a community? The off-grid communities in this article offer rentals, long term stays, tours and even volunteer work for free board. If you're planning on living eco-friendly with a community, this is the article for you. Start planning your trip to one of these destinations today!
Eco-Friendly, Off-Grid Communities
(International)
Located in central Sweden, on the shores of a pristine lake, you'll find 12 charcoal huts built under a canvas of mud and greenery. Kolarbyn is a primitive hotel initially built to preserve Sweden's 400-year-old tradition of charcoaling communities. This place has all the basics like:
Meals are prepared over a fire
Gathering your own water from a spring located on site
Floating saunas
Lake on site
Inflatable mattress with a sheepskin blanket
Fireplace in each hut
Canoeing
Hiking trails
Remote location
Check them out here: Kolarbyn Eco-Lodge
---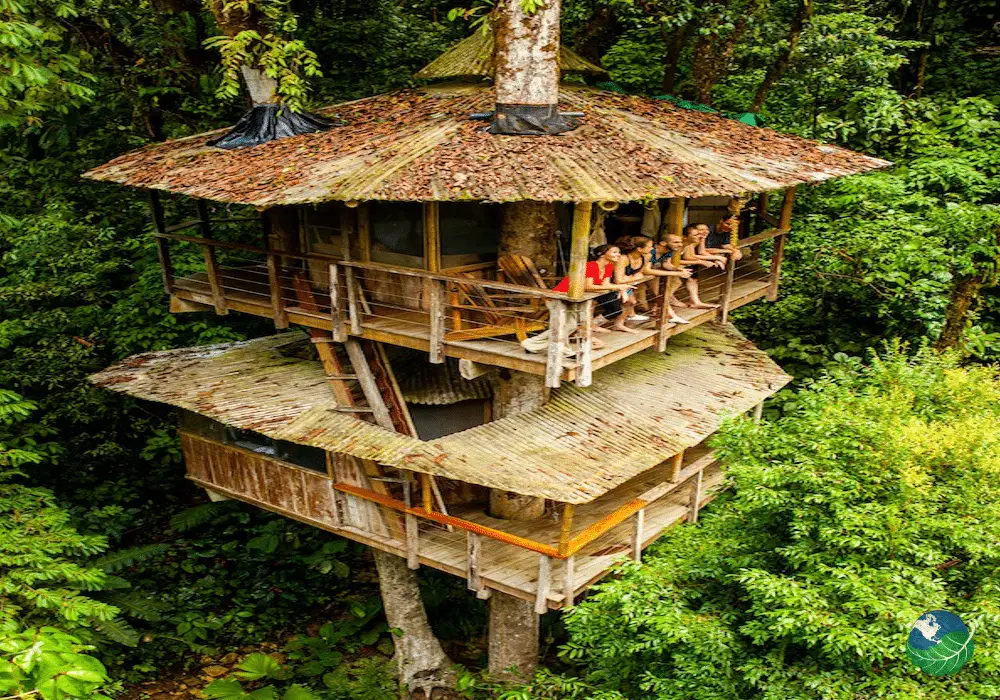 This treehouse community is on the more "posh" side of off grid living. The 600-acre property is deep within the Costa Rican forest and is equipped with:
Hiking trails
Swimming holes,
Hanging bridges
Ziplines
Nearby beaches
Surfing
Hand-built state-of-the-art treehouses
Carbon-neutral homes with drinkable water and plumbing
Gravity-fed filtration system
Yoga classes
Movie nights
Meals are shared with residents the open-air restaurant
80% of the food for meals is grown onsite
Check them out here: Finca Bellavista Treehouse Community
---
This off grid community is a holistic self-sustaining lifestyle nestled in the mountains of northern Spain. Now Matavenero is home to around 60 people and its equipped with:
A free school
Community garden
Sauna
Village bar
Bakery
Library.
The community shares a single computer and one social media account
Visitors are welcomed for up to two weeks without a reservation
Check them out here: Matavenero
---
This 14th-century village is made up of one multilevel, labyrinthine stone structure with more than 150 rooms, nestled in an Italian hillside. The building is stunning maintains 20+ permanent residents where they:
Share meals in the communal dining hall
Help out on multiple farming projects
Enjoy the local Mediterranean beaches
Walking through the medieval villages
Hiking trails through the foothills of the Ligurian Alps
Check them out here: Ecovillage Torri Superiore
This Earthship community has more than 70 structures that are not only sustainable but are literal works of art. Each Earthship is built with recycled materials and produces enough water, electricity, and food for its residents to remain self-sufficient. More than 130 people live in the Greater World Earthship Community, but visitors can experience this way of life through public rentals. Earthships are equipped with:
Bathroom
Running water
Local Garden
Kitchen
Electricity powered by solar panels
Check them out here: Earthship Community
---
On the Big Island of Hawaii sits Asante Gardens, a permaculture farm and ecovillage. Located on Kilauea volcano's slopes this place is equipped with:
Tropical forest to hike
Fruit trees including avocados, coconuts, mangos, and more (over 150 species in total!)
Yoga classes
Dharma practice
A fully awesome vegan meal plan
Basic amenities
Check them out here: Asante Gardens
---
At the Dancing Rabbit Ecovillage, the community of about 60 residents is busy truly changing the way we see the world. Started in the late '90s by a group of Stanford and Berkeley grads, it's founded on principles of sustainability, with its own internal economy and system of self-governance. This village is equipped with
Eco friendly sustainable houses
Wind turbines
280-acre property
Hiking in the woods, hills around the river creeks
Swimming ponds
You can join the two-week visitor program here and study permaculture or natural building. Check them out here:
---
Tinkers Bubble is a small almost entirely self-sufficient community of tiny houses and thatched huts in England's West Country. The group is based off of a shared philosophy of living off the land and eschewing fossil fuels. Chores are divided amongst the residents, which include harvesting apples from the orchard to make juice, collecting honey from the hives, or washing clothes by hand. If you choose to volunteer and live on site, those duties will be yours too. You'll find these features at Tinkers Bubble:
Partial basic amenities
Communal meals
Classes about permaculture and sustainability
Check them out here: Tinkers Bubble
---
This off grid living community is located on a tiny peninsula in the Scottish Highlands. It's only accessible by a ferry or a five-mile walk from the nearest road. The community offers:
Solar and wind Energy
40 croft houses
A six-student school
Local  swimming
Local fishing
Frequent Northern Lights shows
Basic amenities
Check them out here: Scoraig
---
This 500-ton floating art project is the work of Catherine King and Wayne Adams, who live here with their two children. This family fishes for their dinner and they grow their own produce. Unfortunately, you can't live here, but you can visit via a boat charter. Browning Pass offers boat tours of the artist studios, gardens, and sustainable living quarters. This amazing home features:
A Two-story home
Dance floor
Lighthouse
Four greenhouses
Studio
Half-acre garden
Art gallery
Book a tour here: Freedom Cove
If you live in a sustainable community or are looking for one, make sure to drop us a comment!
------------------------------------------------------------

---