Humans can be incredibly innovative and creative. What humans have built from the Mackinac bridge in Michigan to the vision tower in Dubai. Nothing short of extraordinary architecture and design. The buildings, architecture and astonishing pieces of art that humans have made have been nothing short of amazing. But with all the tools and machinery on your side, anything is possible.
But what if you humans didn't have all the modern machinery, tools and technology on their side? What if they were simply left with the archaic tools of the past? Or even more archaic. Simply a hoe and shovel? Well, some people can create miracles out of nothing more than a hoe, a shovel and some dirt. Basically, sticks and dirt. To keep it simple.
Known as 'Mr. Heang Update' that's exactly what Mr. Heang and his friend did. They each had these simple tools. A hoe, a shovel and that's it. They took these primitive tools and started going to work on an area that has nothing but dirt. You start off watching the video going 'What are these guys doing?' Clearly they are wasting their time. But not so fast.
With 278 days of work, just over 9 months Mr. Heang and his friend from Thailand created one of the most extraordinary water park oasis environments I have ever seen. They built it in a remote location in California. Take a look at the finished water park made from nothing but a hoe and shovel.. essentially a stick with a little metal on the end of it.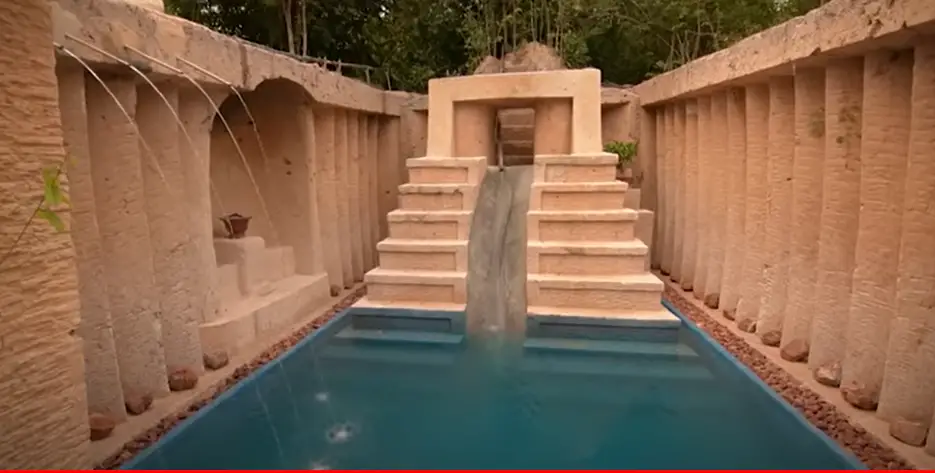 As you watch them build this waterpark out of nothing but primitive tools and dirt you can't help but wonder, will it collapse? Will a big rain ruin it? At some points I caught myself thinking 'what are they doing?' They're ruining it in the act! As you watch them they build this beautiful arch or stairs and then they break that down and do something completely different.
Scroll Down To See The Videos Of This Being Built.
Each time it looks like they are ruining their own creation when in reality they are actually just upgrading it and adding another layer of dimension.
If anyone were to see these two guys with their sticks, going into the jungle shirtless you'd think they were heading off for a hunt or to go collect some potatoes. You'd have no idea that they were creating an architectural masterpiece out of absolutely nothing.
Common Questions About The Waterpark Oasis Include..
How long did it take to build and where did you build it?
Mr. Heang shares "I been working very hard with my 2 friends for 278days to completely build, This underground is in a very small private jungle in California (United States), We did together with three people. With two people building and one person as the camera man.
How big is this waterpark?
Underground Dimensions are:
Depth 5.2m,
Width 15.3m,
Height 8.3m,
Mr. Heang shares 'I knew the most of viewer they hard to believe but it is real 100% By real he means that it is 100%  hand made with tools in video! Mr. Heang even goes on to say 'If you have any ideas, please leave a comment below my video.' He adds I am very happy for your constructive feedback.
Hope you enjoying my videos!!
The main video of this architectural feat is below and has racked up an impressive 93 million views.
They took 278 days of primitive construction and put it into 18 minutes of a digestible content that show you how they did this from beginning to finish. It took a LOT of calories to build this. It looks like something someone from Ancient Rome would have built. It's beautifully made, with grand architecture.
Complete with flowing water into the pool from multiple points. They took bamboo shoots and connected them like lego's over and over. They put the first one at the top near the waterfall and led this water through many bamboo shoots all the way to their pool. This then led the water in and filled their pool and all they had to do is wait. Not only did they bring water into the fold, they brought fire in as well as with fire chambers to light it at night. The pool is paired with a water slide running through the stairs into the pool. Here's the full video below..
'Mr. Heang Update" uploaded this video below also. In an updated version they added a castle like affect to the architecture as well as some additional features such as a side building out of what appears to be bamboo and moss as a roof.
Seeing this makes me want to get a piece of land and a hoe, and a shovel and do the same thing. I'm just not quite sure that my version of this waterpark oasis would be anything near this. Their columns look like they came straight out of Rome, their waterslide is made from nothing but dirt and clay. Their arches were handcrafted! Not even that local baker with the bread you love at your farmers market can do something like this. This creation is truly special, something straight out of a Tarzan film!
You can see Mr. Heang Update videos on youtube here.
Mr. Heang and his friend enjoying the fruits of their labor post production..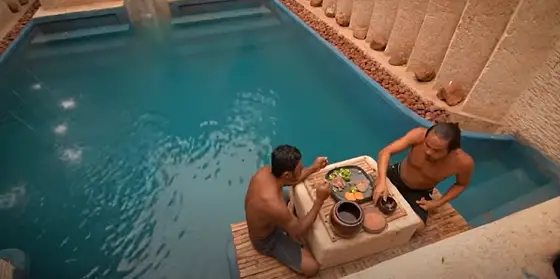 ------------------------------------------------------------
----------------------------------------------------------------------------------------------------
---
---
---