In a remarkable tale of resilience and hope, an 82-year-old woman diagnosed with dementia has defied the odds by reclaiming her cherished memories after making a profound change in her daily diet. Dementia, a degenerative condition that can rob individuals of their memories and cognitive abilities, had cast a shadow over her life, until an unconventional approach led to a breathtaking transformation.
Through the power of nutrition, this tenacious woman embarked on a journey that not only improved her overall well-being but also reignited the spark of her long-lost memories.
The cornerstone of her dietary overhaul involved embracing the principles of a groundbreaking nutritional plan known as the MIND diet. A fusion of two renowned diets – the Mediterranean and DASH (Dietary Approaches to Stop Hypertension) diets – the MIND diet has been gaining traction for its potential to bolster cognitive function and protect against neurodegenerative disorders.
As researchers and healthcare professionals continue to study the potential link between nutrition and cognitive function, this inspiring tale serves as a beacon of hope for countless others seeking ways to improve their quality of life amidst the challenges of dementia.
Join us as we explore the transformative power of dietary choices and the astonishing triumph of an 82-year-old woman who refused to surrender to memory loss.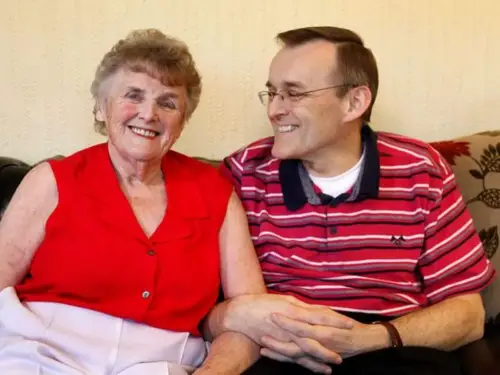 Meet Mark and Sylvia. A Mother and Son that were faced the daunting reality of Alzheimer's disease, they refused to surrender to its relentless grasp. The medical treatments prescribed by doctors offered little more than a temporary reprieve from the disease's progression. Desperate for a solution that could truly make a difference, Mark and Sylvia turned their focus to the transformative power of a balanced diet and lifestyle changes.
The pivotal element of their action plan involved adopting a nutritional approach known as the MIND diet. Designed to nourish the brain and support cognitive health, this diet combines the beneficial aspects of the Mediterranean and DASH diets. The MIND diet emphasizes the consumption of nutrient-rich foods, such as leafy greens, berries, whole grains, nuts, and fish, which have been linked to improved brain function and memory retention.
Sylvia and Mark made a conscious effort to replace processed and unhealthy foods with these brain-boosting alternatives. Fresh fruits and vegetables became the foundation of their meals, while fish, rich in omega-3 fatty acids, became a regular part of their diet. Additionally, they incorporated nuts and whole grains to further enhance their nutritional intake.
Another crucial aspect of their action plan was engaging in regular physical activity. Sylvia and Mark began taking daily walks together, not only to benefit Sylvia's physical health but also to strengthen their bond and foster social connections.
To stimulate her mind, Sylvia engaged in memory games and puzzles. These mental exercises aimed to challenge and exercise her cognitive faculties, potentially slowing the decline caused by Alzheimer's disease.
As the weeks turned into months, Mark and Sylvia began to witness gradual improvements. While there was no overnight cure, they noticed subtle changes in Sylvia's memory and cognitive abilities. Her lucidity returned sporadically, and there were moments when she recognized her surroundings and the people she loved.
Throughout this process, Mark endured the immense emotional toll of witnessing his mother's struggle, all while managing his own well-being. The weight of the situation led to a significant weight loss and extreme exhaustion. However, he remained steadfast, drawing strength from Winston Churchill's famous quote: "If you are going through hell, keep going."
The incredible transformation did not come without challenges, but the progress fueled their determination. With the support of their treating team and the implementation of their bespoke action plan, Mark and Sylvia experienced a renewed sense of hope and resilience.
Mark and Sylvia's story serves as a testament to the power of diet and lifestyle changes in promoting brain health. Their journey sheds light on the potential benefits of adopting a nutrient-rich diet, staying physically active, and engaging in mentally stimulating activities in the fight against neurodegenerative diseases.
The MIND Diet For Alzheimer's & Dementia
As we age, certain foods can also help prevent degenerative diseases. The MIND diet, which stands for Mediterranean-DASH Intervention for Neurodegenerative Delay diet, encourages eating foods that help fight dementia. Studies have shown the Mediterranean cooking style increases heart health, and the plant-based DASH diet, short for Dietary Approaches to Stop Hypertension, promotes eating many of the same kinds of foods.
10 Foods That Help Prevent Dementia
1. Greens – 6+ servings/week
Whether you eat them in a crisp summer salad or blend them into a fruity smoothie, aim to get six or more servings per week. Add This Superfood Green Barley Powder To Your Smoothies!
2. Vegetables – 1+ servings/day
In addition to leafy greens, vegetables of all kinds are encouraged on the MIND diet. Try roasting them in the oven, pureeing them to a creamy texture, or adding herbs and garlic to enhance their flavor without adding salt. You Can Add This Nutritious Broccoli Powder To Juices And Broths
3. Nuts – 5+ servings/week
The healthy fats and fiber in nuts make them an ideal MIND diet food. Plus, they're an excellent snack to have around in the kitchen or in your bag when you're feeling peckish. Check Out This Amazing Superfood, Bee Pollen, Which Has A Large Nutritional Profile, Better than Nuts!
4. Berries – 2+ servings/week
A wide variety of berries have been shown to protect brain health and should be eaten at least twice a week. They're also a perfect substitute for high-sugar desserts and sweets. These Freeze-Dried Organic Blueberries Are Perfect For Oatmeal And Cereal!
5. Beans – 4+ meals/week
Beans are high in fiber and protein, keeping you satisfied longer – plus they're low in calories and fat. Beans can take on the flavor of whatever you're cooking them in, and they're a great addition to dishes year-round. Organic Fo-Ti Root Steamed With Black Beans Not Only Gives You Fiber And Protein, Fo-Ti Root Has Anti-Aging Properties. Check It Out Here!
6. Whole Grains – 3+ servings/day
Switch white bread out for more nutritious and filling whole-wheat bread, as whole grains are recommended on the MIND diet. Other easy whole grains to add into your diet include oatmeal, brown rice, whole grain pasta, and popcorn. Organic Triple Soluble Fiber Powder Promotes Digestion, Colon, Gut Health, Click Here To Check It Out!
7. Fish – 1+ meals/week
The unsaturated fats in fish are great for your overall health. Plus, fish like salmon and cod are healthy and delicious alternatives to red meat. These Fish Oil Supplements Are Packed With Omega-3's And Vital For Memory, Check Them Out Here!
8. Poultry – 2+ meals/week
Like fish, poultry has unsaturated fats that provide health benefits, making it another prime choice on the MIND diet. Eat it in wraps, salads, sandwiches, soups, stir fries, or on its own! Multi-Collagen Powder Can Be A Great Addition 
9. Olive Oil
The MIND diet recommends cooking with olive oil because it helps protect your brain from Alzheimer's disease. Olive or canola oil are the perfect alternative to butter or margarine, which should be avoided. Add Delicious MCT Oil Powder To Your Coffee And Tea For A Mental Boost!
10. Wine
Wine in small amounts is encouraged on the MIND diet! Studies show both red and white wine can be beneficial for your brain, and red wine has been proven to protect brain cells. Be sure to choose the highest quality with low/no sulfites and opt for organic if possible.
In conclusion, the extraordinary journey of Sylvia and Mark stands as a beacon of hope in the face of Alzheimer's disease and dementia. Their unwavering determination to fight back against the debilitating effects of the condition through dietary and lifestyle changes is a testament to the resilience of the human spirit.
While there is still much to learn about Alzheimer's and its potential treatments, their story emphasizes the importance of exploring alternative approaches and the potential impact of nutrition on cognitive health. The MIND diet, with its focus on brain-boosting foods, has shown promise in supporting brain function and memory retention, giving hope to those facing similar challenges.
Sylvia and Mark's emotional journey serves as a reminder of the immense toll that dementia can take on both the affected individual and their loved ones. Through their strength and perseverance, they demonstrated the power of love, compassion, and the willingness to adapt in the face of adversity.
As research continues to shed light on the complexities of neurodegenerative diseases, the need for support and understanding for those living with dementia remains paramount. Families like Sylvia and Mark's benefit from a network of resources, care, and community to navigate the challenges that arise.
Their story compels us to advocate for further research, improved care, and increased awareness surrounding dementia. Let us celebrate their triumphs and continue to seek a world where memory loss is met with compassion, understanding, and the hope that one day, a cure will be found.
In honoring Sylvia and Mark's journey, we extend our gratitude to all the caregivers, healthcare professionals, and researchers who work tirelessly to improve the lives of those living with dementia. As we move forward, let us cherish the memories that shape our lives and stand united in the pursuit of a future free from the grip of dementia.
Remember, no matter the obstacles, there is always room for hope and resilience in the face of adversity. And just as Sylvia reclaimed her cherished memories, may we all be inspired to embrace the power of change and transformation in our own lives.
Recommended Reading:
------------------------------------------------------------
---