Lynxes are one of the most unique and beautiful animals in the world, but they are also among the most elusive of all species as well.
According to Minnesota's DNR, the range of the mystical lynx cat is shown below, and includes most of Canada and several other U.S. states stretching all the way up to Alaska on the far northwest corner of the map.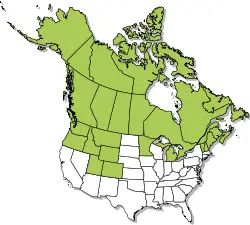 Lynx aren't exactly the most commonly seen animals in zoos either, meaning there's a good chance that few people have seen them very often.
I personally saw one in a pet shop during my younger days in Michigan, but haven't seen them in persons since.
Lynxes are rarely kept as pets, and aren't typically legal to be kept in most states.
According to BigCatRescue.org, these majestic felines have no laws against them being kept as pets in just four states: Wisconsin, Alabama, Nevada and North Carolina.
As you can see, any encounter with a lynx is one that should be cherished.
Recently, an Alaska man saw the majesty of these cats up close and personal at his house in the northwest state, and it all started when he started hearing noises on his porch.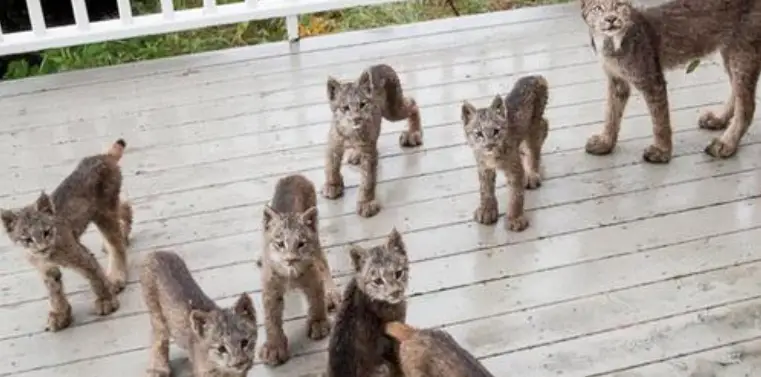 "I Thought, "Wow! What Incredible Luck!"
The lucky sightseer was a photographer named Tim Newton.
Tim woke up early in the morning to a strange noise that turned out to be a pleasant surprise, according to the website MajesticAnimals.net.
When he made his way out to the porch, he quickly saw what all the fuss was about: seven lynx cubs were playfully strutting about his porch, with mama lynx in tow to keep an eye on them as well.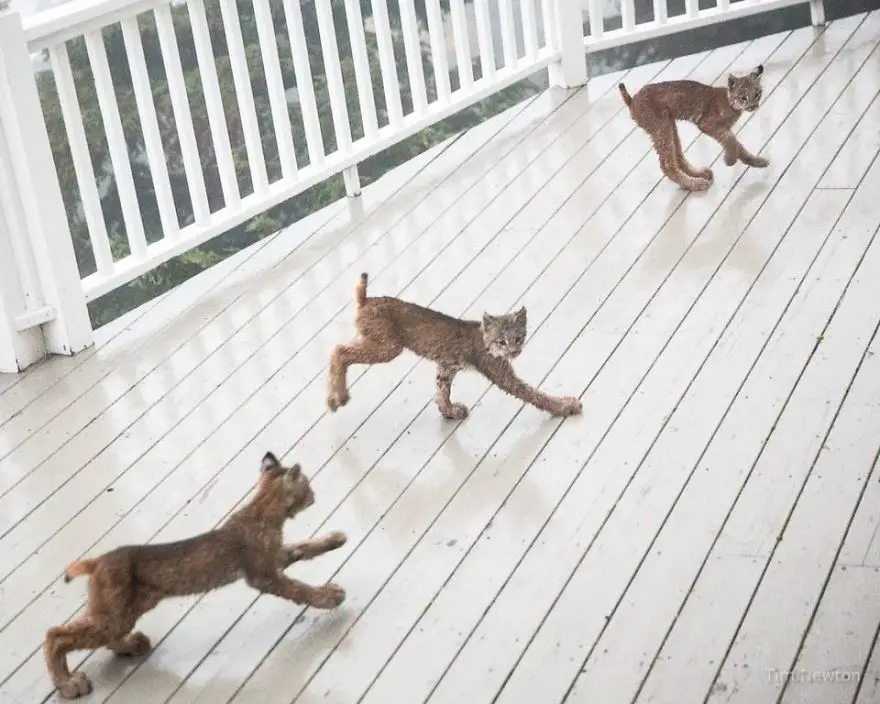 The wild cats have a long, slender appearance to them with oversized paws and legs, perfect for hunting smaller, and sometimes larger creatures.
They are able to stealthily move through snowy and cold environments, protected by their claws and fur coats, maneuvering from place-to-place with style and grace.
While Mama Lynx and her cubs appear to be having the time of their lives, you can also see a look of worry on her face around the 44-second mark as she attempts to take inventory of her cubs.
These cats are a true joy to watch, especially when you find them playing in the cutest ways possible like Mr. Newton did.
He grabbed his camera and was able to capture the photo and video footage of a lifetime.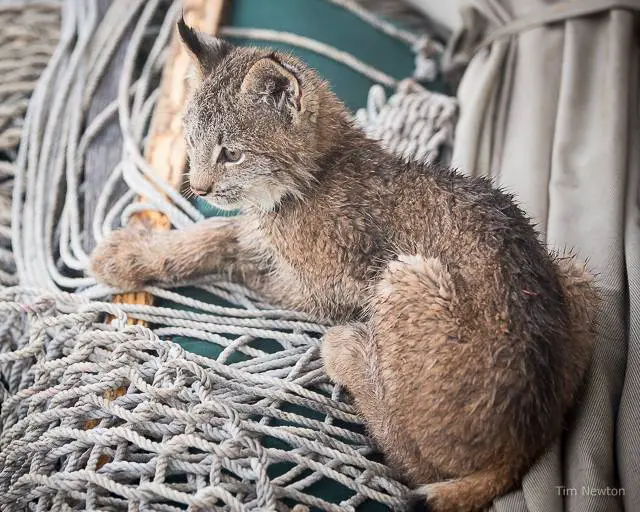 "Lounging around…. my Lynx siblings are so entertaining!!! he wrote on his Facebook photography page."
The first lynx spotted was a darling kitten, the talented photographer added.
"I crept over to the window and opened the curtains a crack, and could see it looked like a cat. I started to think nothing more of it. But then I noticed it had really big feet and little tiny hairs on its ears. So I knew then it was probably a lynx kitten – not a full grown cat," Newton said to Channel 2 locally.
"And lo and behold, one-by-one, all these baby lynx came to mama and shuffled out onto the deck, right in front of me, where I was standing behind the screen."
Lynx are typically not seen as a threat to humans, but they will defend their territory fiercely against all who encounter them.
In this case, the lynx are joyful and playful, and the result is this enchanting video!
Check it out here and be sure to share with any nature or cat lovers in your life who may want to see this!
------------------------------------------------------------
---