Former 'Full House' and 'America's Funniest Home Videos' star and standup comedian Bob Saget died suddenly at the age of 65 on Sunday, leaving behind daughters Aubrey, Lara, and Jennifer, whom he shared with ex-wife Sherri Kramer.
Saget had been speaking positively about life and his recently launched his 'I Don't Do Negative' Tour,' which had been scheduled to run through June 18 of this year in Houston, Texas and was preparing for January 28 and 29 stops in West Palm Beach, Florida.
The messages were simple and to the point, highlighting Saget's focus on his comedy and family in his final days.
"Thank u. Love u. Showtime!" Saget wrote, as shown in a screenshot of Aubrey's Instagram Story post while her dad was busy with his stand-up show.
Saget was found dead in his hotel room at the Ritz-Carlton in Orlando, Florida on Sunday. He had performed the previous night at a venue located just outside of Jacksonville.
Saget also posted a selfie at the show that received a staggering 681,000-plus likes on Instagram, seen below.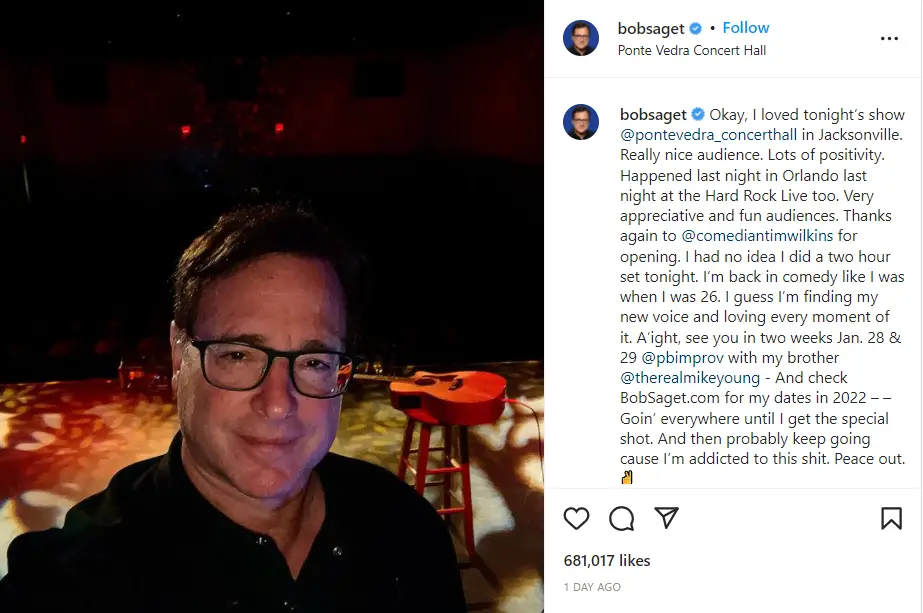 Pictures of Saget and his daughters have also been shared in the news media.
Below, he is pictured with all three of them in a photo taken by Shawn Ehlers of WireImage.
Saget had the following to say about his children in a 2016 interview with People Magazine.
"They are the light of my life," he said at the time. "I am a fortunate man in that all three of my daughters are exceptional. [They are] high beings, very smart people, very wonderful and very brilliant, very beautiful. They're all artists."
The cause of Saget's death is currently being investigated.
According to the video below, Saget "just got his booster," and had been preparing to tour the rest of Florida and New York City in the upcoming weeks among other locations.
He later revealed on Jan. 5 that he tested positive for COVID, although he didn't say when exactly.
An autopsy for Saget was completed on Monday according to CNN.com.
The full investigation could take 10-12 weeks to complete.
"At this time, there is no evidence of drug use or foul play," Chief Medical Examiner Joshua Stephany said in a statement to the news network.
"The cause and manner of death are pending further studies and investigation which may take up to 10-12 weeks to complete."
------------------------------------------------------------

---