Bruno Mars is one of the top selling artists of all-time, with over 200 million singles and 26 million albums sold during his career.
He's also been known to make a big splash on the big stage, and that certainly happened at the 64th Annual Grammy Awards in Las Vegas on Sunday night.
Whether you're tired of awards show drama or not, this was an interesting situation that has many people questioning what type of impact it may have on society, especially today's youth.
Bruno Mars Lights Up a Cigarette at Grammy Awards in Las Vegas 
It used to be commonplace among entertainers, from the Rat Pack with Sammy Davis Jr. and Dean Martin to Snoop Dogg in today's day and age.
Actors, athletes, and musicians alike have all smoked like chimneys throughout history, but what effect will Sunday's incident have in setting an example for today's youth?
The world is about to find out.
Mars, 36, has made worldwide news headlines for lighting up a cigarette just moments after winning a Grammy as part of the group 'Silk Sonic,' an R&B outfit featuring rapper Anderson .Paak.
"'I couldn't be more proud to be doing this with than anyone other than you,' Bruno told  his co-star after the awards win.

'Because of you, we'll be singing this song together for the rest of our lives. So God bless you all."
Mars lit the cigarette after walking up in front of the audience to accept the award.
Some fans say the incident was even more shocking than Will Smith's 'slap' of Chris Rock a week earlier.
'Bruno Mars just lit a cigarette on the Grammys stage in the middle of accepting an award, can we talk about that instead of Will Smith now?' one commenter said.
Is Bruno Mars a Bad Influence After Smoking Incident?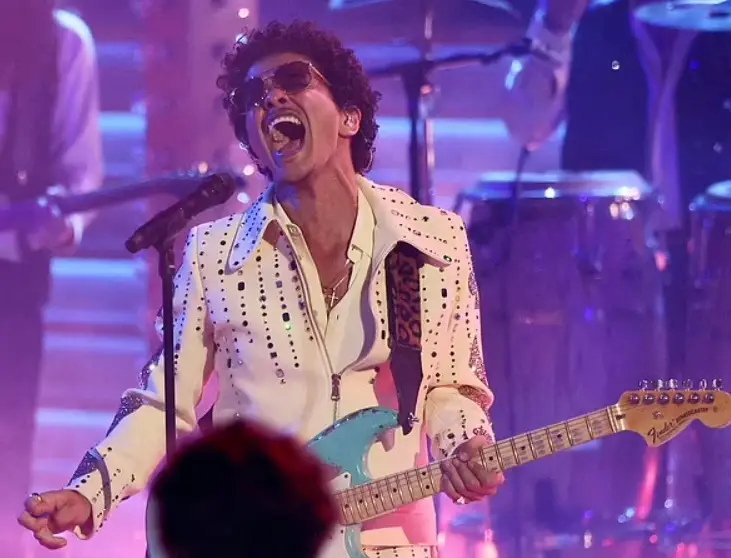 Mars has never been one to shy away from controversy, but many believe he went too far with his stunt.
One person said they would never longer attend Bruno's shows after what happened.
'Great music but did @BrunoMars just light a cigarette on stage????

One concert I will no longer go to…'
Still another commenter became even more serious with their response.
'I would like to see the fire Marshall fine Bruno Mars for smoking a cigarette on stage!!!!', wrote another.
Not Everyone Seems to Think Bruno Was in the Wrong on This One
Others thought Mars was simply enjoying the moment and doing something that has been done countless times in showbusiness, and among everyday people for that matter.
He seems to put feeling good and being free over controversy and worrying about what others think, for better or worse.
'Oh to be Bruno Mars smoking a cigarette on stage at the Grammys,' wrote one person.

'It was the Bruno Mars accepting a #GRAMMYs and lighting up a cigarette on stage – vibe for me,' shared someone else.
Video of the controversial moment can be seen below, along with a music video of the award-winning song from 'Silk Sonic.'
What do you think of this moment, and do you think Bruno Mars is a bad influence on children?
------------------------------------------------------------
---