One of the great joys in life is sharing favorite childhood movies, books, and shows with the younger generation.
On September 17, 1988, the first episode of the wildly popular TV show and comic strip 'Garfield' premiered, starring the lazy, smart-alecky title character and his owner Jon Arbuckle. along with a host of other characters.
Nermal the cute baby gray tabby cat played the role of Garfield's antagonist on the show, while Odie the dog played the role of the yellow-furred, brown eared beagle that became the title character's best friend, and at times the victim of some pretty mean-spirited pranks.
The series creator, Robert "Jim" Davis, was born in 1945, and new comics are still being created and posted by Davis on the website GoComics.com to this very day.
A new Garfield comic strip was published on August 24, 2021, and shows the grumpy orange cat "brushing up on his mouse" language skills while viewing a demonstration.
Make no mistake about it: Garfield is still a major player in the world of comic strips and cartoons, as evidenced by a post that went viral on the Garfield Facebook page recently.
For the sake of this post, readers are tasked with finding Garfield's lovable and mischievous canine companion amidst a sea of other characters.
Can you spot Odie in this challenging and at times confusing optical illusion?
Upon viewing the picture on the Garfield page, many commenters took their best shot while reminiscing about their favorite characters from the show.
"I have forgotten Odie," wrote one commenter named Shivangi Reviews.
Another named Nir Neven Aaron took a while to spot the popular character in a sea of Garfield and Nermal likenesses, as well as teddy bears.
"I'm usually pretty good in these things, but this time it almost took me a minute," they said.
The full optical puzzle can be found below.
Can you find Odie?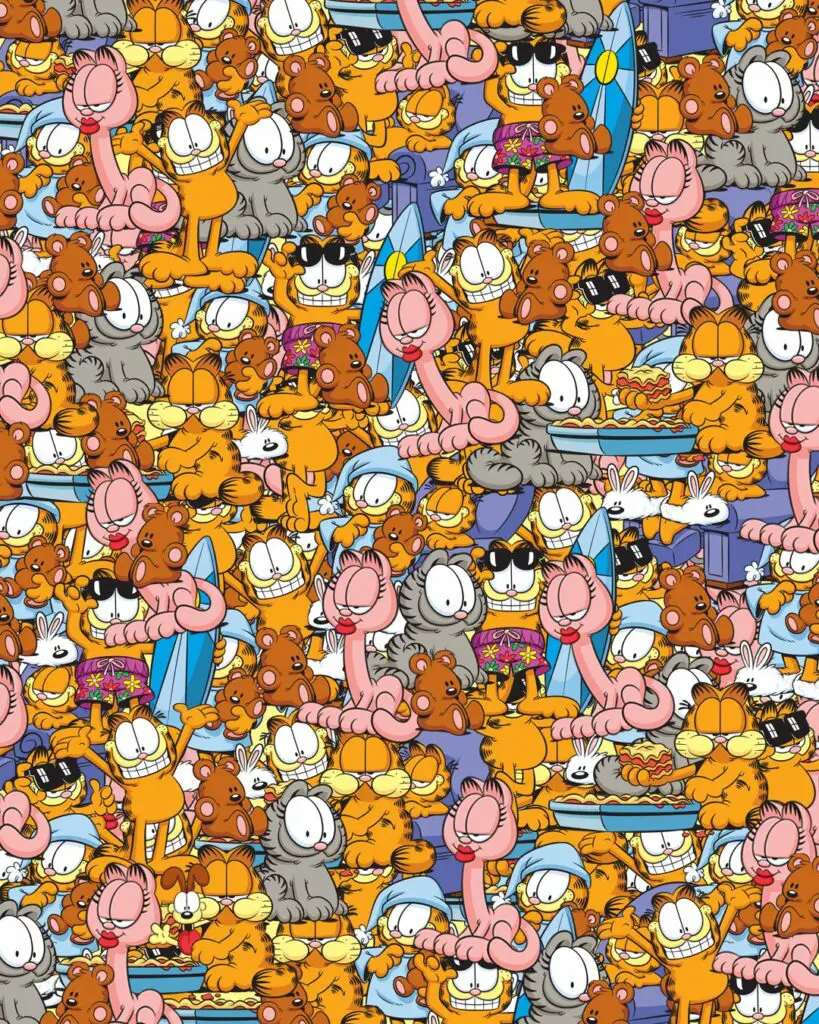 Still another commenter named Sandra Fofana said the picture reminded her of the famous Where's Waldo? book series.
"Reminds me of where's Waldo? Which I used to collect when I was kid 
," she said.
We don't want to give the answer away, but Odie is definitely in there somewhere.
It just might take you a little while to find him!
Were you able to solve this one?
------------------------------------------------------------
----------------------------------------------------------------------------------------------------
---
---
---