Chris Rock has done his best to keep things positive since the "slap heard 'round the world," but it isn't always going to be the easiest thing for him to handle, as evidence by his dealings with a heckler on Thursday.
Rock had been performing during a sold out show, dressed in an all-white outfit and beginning his set by addressing what happened during the weekend at the Oscars.
It was then that things took a turn for the dramatic, and Rock had a tough decision to make.
Hecker Begins Cursing Out Will Smith; Chris Rock Reacts the Best Way He Knew How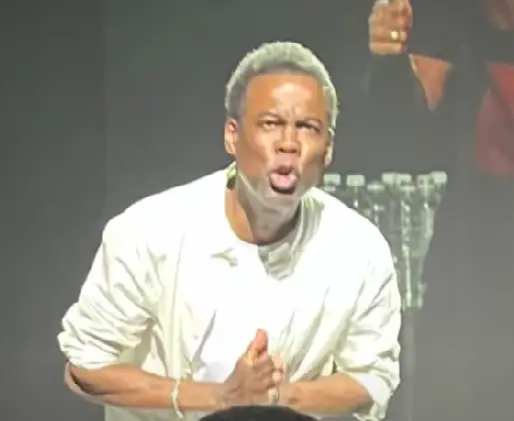 An audience member, still thinking of the past weekend, decided to unload on the former 'Fresh Prince of Bel-Air' star Smith, who slapped Rock over his 'G.I. Jane' joke referencing Smith's wife.
The audience member did not pull any punches with his words, going straight to the point.
"F— Will Smith!" the audience member yelled.
It was an echo of the previous night when the entire audience began a chant with the same explicit word included, directed at Smith.
But just like his reaction on Sunday night, Rock took it all in stride. He chose not to engage the audience on Wednesday during the chant, and this time around he took it upon himself to immediately shut it down.

"No, no, no, no, no…" Rock replied according to Yahoo! News, allowing for the audience member to calm down and refusing to fan the flames of his anger and frustration.
Rock Gives Further Update on Will Smith Situation
"I haven't talked to anyone, despite what you heard," Rock added during his late-night set.
Despite reports earlier this week that rap mogul Sean "Diddy" Combs said the pair had made amends, Rock implied that he hadn't spoken to Smith yet.
At a time when so many rumors are flying and tensions are still high among fans and onlookers, Rock did the sensible thing yet again.
Hopefully, the rest of the world will follow suit in the coming days, so both parties can move on from this feud and start to focus on the things that really matter.
Rock has another show in Boston tonight before heading to Atlantic City.
Kudos to you, Mr. Rock.
See more about what happened in the video below:
------------------------------------------------------------
----------------------------------------------------------------------------------------------------
---
---
---