One of the best aspects of the most classic movies in cinematic history is the roster of unique characters than accompanies each film, ranging from stars of the show to sidekicks, wives to husbands, siblings, good guys, bad guys, and everyone in between.
As far as memorable movie siblings go, few have stirred audiences like Buzz McAllister, the older brother of Macaulay Culkin's Kevin McAllister in the timeless Christmas movie series Home Alone.
Buzz became famous, or perhaps infamous, by tormenting his younger brother throughout the opening scenes of the first two movies.
Buzz later experiences multiple changes of heart after learning how tough his younger brother really is from defending the family's home and possessions from the 'The Wet Bandits,' played by the bumbling duo of Joe Pesci and Daniel Stern.
Kevin also has more than a few issues with Buzz, letting loose the memorable line "Woof!" while finding a picture of Buzz's girlfriend in the first movie.
The character Buzz was played by Devin Ratray, an actor who is now 44 years old and has starred in roles such as Nebraska, R.I.P.D., and Masterminds.
According to the website Best Life, Ratray had already starred in shows such as the TV series Heartland and in movies including Little Monsters and Worth Winning.
After the first Home Alone movie, he also appeared in Dennis the Menace as well as Home Alone 2.
Ratray reportedly had a great time working on the set of Home Alone with the impossibly large McAllister family actors crew, as detailed in an interview with the website Den of Geek in 2020.
"We would laugh and joke around. We bonded like brothers and sisters. I don't recall any fighting at all.
"I was also a bit older than most so they did treat me like Buzz the older brother but I felt very close with them and we had a pretty good time together."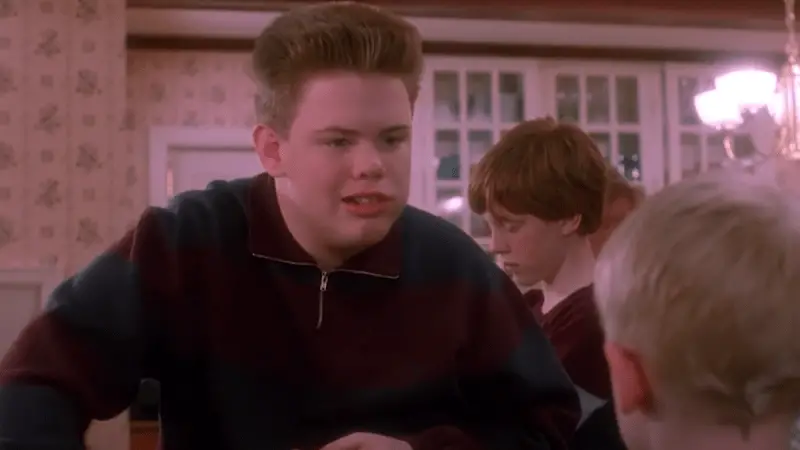 One of Buzz's worst pranks in the movies included the scene below in Home Alone 2: Lost in New York, when Kevin's older brother held fake candles up to his ears before drumming them on his head.
Kevin turned around, went after Buzz and caused the entire grandstand full of singers to collapse.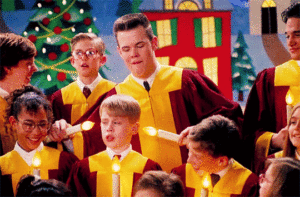 Now age 44, Buzz doesn't have the same type of "buzzcut" that was his namesake in the Home Alone series, but he has matured quite a bit as both an actor and a person, as you may have imagined.
While he still enjoys the Home Alone series enough to have reprised his role as Buzz in the recently released Home Sweet Home Alone original movie airing on the Disney+ network, Ratray said according to the interview that he has enjoyed playing multiple roles in multiple different film projects.
Here is what he looks like now:
Ratray said that the Home Alone movie series has meant a lot to him, as has the Buzz character.
He even watched it with his son and explained to him that he was Buzz.
He spoke about the magic of the popular movie to Bustle magazine.
"Once I saw (Home Alone), it was the largest lesson in filmmaking I'd ever experienced," he explained.
"To see what I read on script just translating into non-stop laughter, my eyes opened up and I realized, wow, that's the power of cinema."
He says that people on the street still feel like they know him because of his familiar role in the 90's movie classic, even today.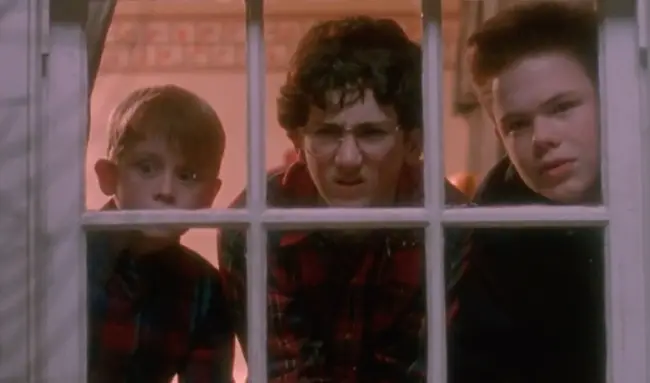 "People felt a familial relationship with me when they would see me on the street," he told Bustle.

"They truly felt like I'd been in their homes during some of the most quiet, intimate Christmas mornings of their lives."
------------------------------------------------------------
---