The tiny home trend has taken off across the United States, even extending into the world of luxurious tiny houseboats and shipping container homes.
Most of the time, these tiny boats and tiny homes are highly affordable, in the $8,000 to $60,000 range, but now, Ikea Japan is proving that tiny home living can be even cheaper, believe it or not.
The Swedish furniture company's latest moves have made serious waves in the country with the announcement of what could be the cheapest living arrangements out there — fully-furnished "Ikea Tiny Homes" that can be rented out for less than $1.00 per month.
More accurately described as tiny apartments, these minuscule dwelling places are 107 square feet in size and can be found in Shinjuku, Tokyo.
Ikea has launched the uniquely inexpensive living quarters as part of a new campaign, venturing into the real estate market with the new designs.
According to the floor plan, each space is a loft-style area with a stepladder, with the first floor providing space for the entrance, kitchenette, bathroom, and washing machine.
Utilities will be paid by each tenant, and each tiny living space will come with Ikea furniture design to fit the small yet cozy space.
Could you ever see yourself living here, or does it perhaps make you appreciate your own living quarters a little more?
Ikea has even enlisted the help of its famous toy shark, Blahaj, to help promote the impossibly cheap, tiny apartment spaces.
Information about the tiny apartments can be found at the "Blahaj real estate offices" in Tokyo, where people can get more information.
Each tiny home will be rented out on short-term leases lasting until January 15, 2023, according to Japanese media outlet Sora News, and everyone who gets a lease must sign up for Ikea's Family Membership plan.
What the spaces lack in size, they make up for in organization, novelty, and location, according to their creators, as well as one determined shark who moonlights as a realtor.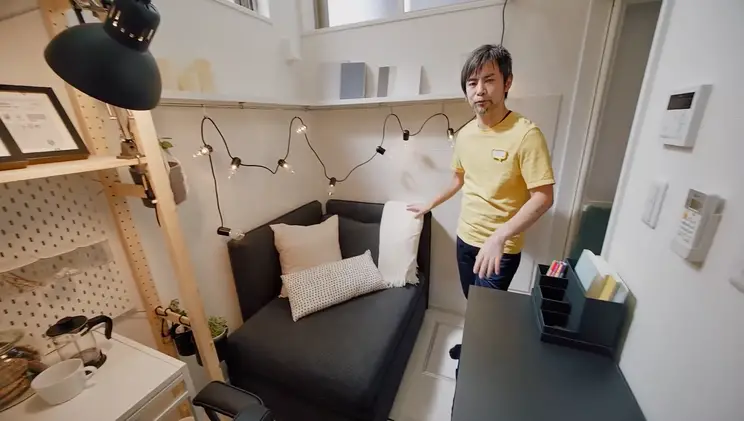 Do you think you could last for a year or longer in a space like this, or would you be forced to move somewhere else?
Let us know what you think in the comments section of this article, and happy home shopping!
------------------------------------------------------------
----------------------------------------------------------------------------------------------------
---
---
---