Disney is known worldwide for its blockbuster movies, with three motion pictures since 2015 having grossed over $2 billion at the box office.
Among Disney movies, the recently acquired Marvel series of movies as well as 'Star Wars' stand out, along with remade classic kids films such as 2019's 'The Lion King,' as well as modern kids classics like 'Frozen.'
In 1994, Disney released a movie that couldn't hold a candle to these films in terms of its box office numbers by the name of 'Blank Check.'
While the film has been mostly forgotten since its release, it did go on to make over $30 million in the U.S., and over $38 million worldwide, and it has a loyal community of followers who remember it fondly from their days as a "90s Kid."
Now, the movie is in the news for an entirely unexpected reason: a controversial kiss between a grown woman and a child in the movie, that critics are calling 'The Most Awkward Scene Ever.'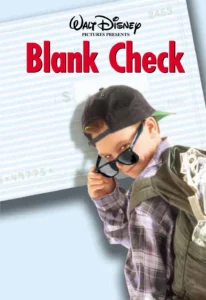 In the movie, 12-year-old Preston Waters, who is played by the young actor Brian Bonsall, stars along a 30-something FBI agent posing as a bank teller named Shay Stanley, played by actress Karen Duffy.
The movie tells the story of Waters' spending the $1 million deposit he was stumbled upon while evading criminals and getting into the usual assortment of trouble.
While fans remember it fondly for the young Waters' escapades, viewers re-watching the film as adults have noticed the questionable kissing scene shared between the woman and the young child.
The scene in question happens as Waters takes Stanley out for dinner and buys her jewelry before asking her on another "date."
"So when can I see you again Shay?" the youngster asks.
She replies by saying, "Why don't you give me a call in, say, about ten years?"
The two negotiate when such a hypothetical meeting would take place, going from five to seven and then six years, according to a report from Newsweek.
Eventually, Stanley acquiesces.
"Ok, it's a date," she says.

Shockingly, she then leans in to give the middle schooler a kiss on the lips.
The surprising turn of events was shared on TikTok by user Rob Anderson, who had the following to say.
"This Disney movie Blank Check has the most awkward scene ever."
Perhaps most shocking is the way she kisses him: far from an innocent peck, the actress really seems enamored with the middle schooler as the child and the adult woman lock lips.
Check out the scene below, and be sure to take note of it the next time your kids may pick out this movie to watch on a weekend night:
------------------------------------------------------------
---