We can officially celebrate… spring is almost here! And the Easter Holiday is right around the corner. Easter is a celebration of life and renewal, whether you observe the day as a religious holiday or with family traditions. It's a time for family, traditions, and the celebration of life. Eco-Friendly Easter.
But somehow, Easter has become an extremely wasteful holiday. From plastic eggs to baskets and grass that end up in the trash… Easter is full of single-use items. But it doesn't have to be that way! Check out these 203 different ways to make your holiday beautifully sustainable and allow yourself to create some new family traditions!
Easter Basket Swap Outs
Considering the basket itself, many people buy a brand new basket every year, only to scrap it and get a new one the next year. Try saving the baskets, and assign each child one of their own, similar to Christmas stockings. You could even let the child decorate and add on to their basket each year. Let them make it their own individual style.
Alternatives to Plastic Grass
You can use natural grass or hay as a filling for your Easter basket. This is a great option if you have access to a lawn or a farm where you can gather grass or hay.
You can also shred paper or tissue paper into small pieces and use them as a filling for your Easter basket. This is a great way to recycle paper that would otherwise be thrown away. (Let the kids color the papers green the night before for bonus points!)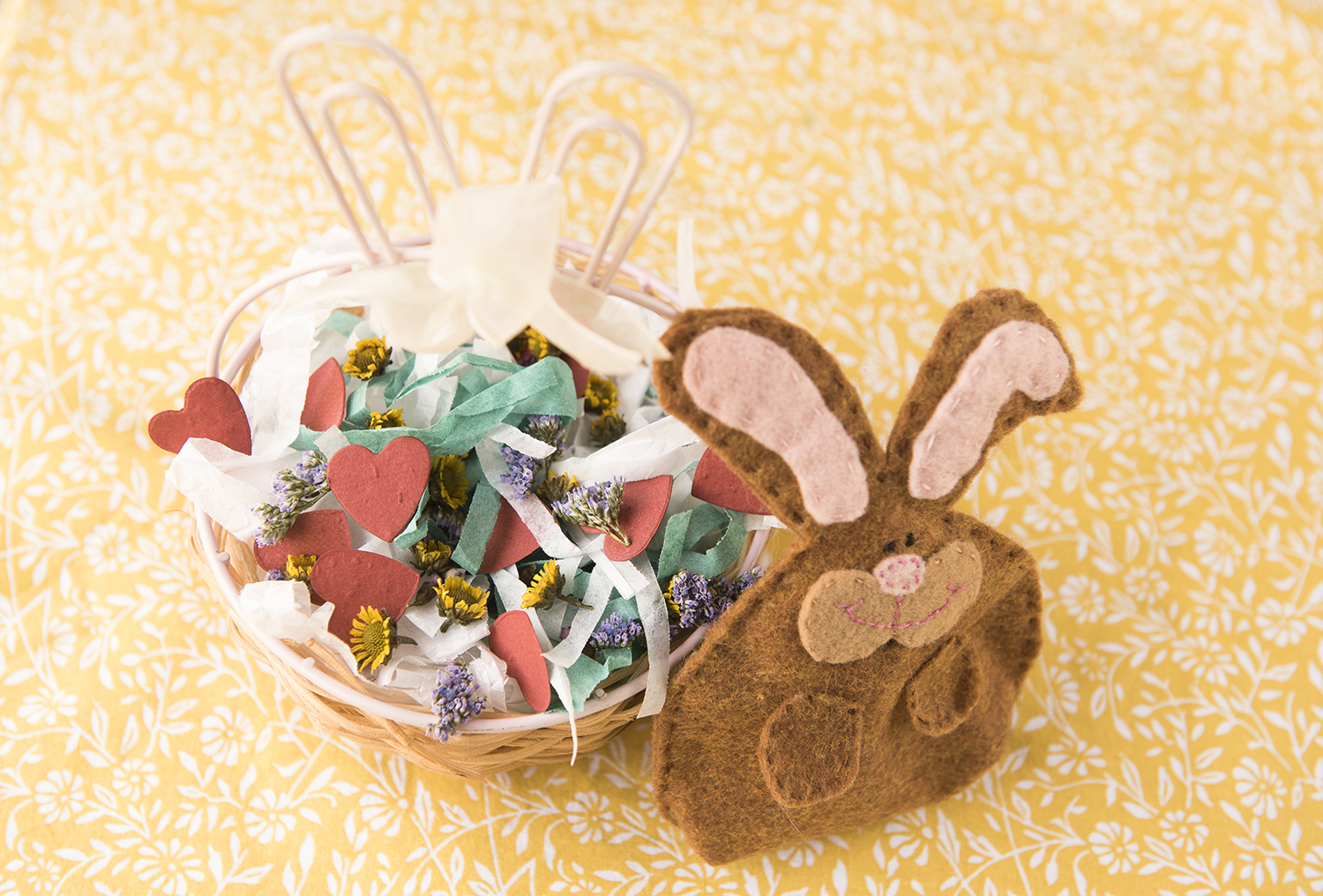 You can cut fabric scraps into small pieces and use them as a filling for your Easter basket. This is a great way to use up fabric scraps that would otherwise be thrown away. You can also use reusable felt or fabric liners in your Easter basket instead of plastic grass. These can be easily washed and reused year after year.
Green wool roving is beautiful Easter basket filler. After the holiday you can craft with it, use it as grass for a nature table, or save it for next Easter.
You can even find edible grass made from wheat, rice, or other natural materials as a filling for your Easter basket. This is a great option if you want a fun and eco-friendly alternative that kids can also enjoy.
Remember, the key to an eco-friendly Easter basket is to reuse or recycle materials whenever possible, and to choose natural, biodegradable materials over synthetic, non-biodegradable ones.
Eco-Friendly Easter Eggs
No need to pick up a pack of those cheap plastic Easter eggs every year! There are plenty of alternatives that will provide a fun experience for you, your family, and our landfills! Don't be afraid to create some new traditions!
Obviously, If you already have plastic eggs, just reuse them next Easter. Wash them with soap and water, allow them to dry, and store them for next year.
You can find wooden Easter eggs made from sustainable materials. These can be decorated with paint or markers and reused for many years. Use a "trading system" when the kids are done finding the eggs, and they can pick between a fruit juice based candy or a sustainably made toy!
Fabric eggs made from organic cotton or other natural materials are a great eco-friendly alternative. You can sew your own or purchase them pre-made. You can also make your own paper mache Easter eggs using recycled materials such as old newspaper or cardboard.
Some companies make plantable Easter eggs that are made from biodegradable materials and contain wildflower seeds. Once the egg is cracked open, you can plant it in soil and watch it grow. You can even create your own eco-friendly Easter eggs by upcycling old items such as cardboard tubes or empty egg cartons. Use your creativity to turn them into fun Easter decorations.
Dyeing Easter Eggs
There are several eco-friendly ways to dye eggs for Easter that do not involve the use of artificial dyes or chemicals. Here are a few ideas:
You can use natural ingredients like onion skins, red cabbage, spinach, turmeric, and beets to make your own dyes. To make a natural dye, boil the ingredients in water, strain the liquid, and add vinegar. Then, soak the eggs in the dye for several hours or overnight.
You can use coffee or tea to dye eggs. Simply brew a strong pot of coffee or tea, let it cool, and soak the eggs in the liquid for several hours or overnight.
If you prefer to use food coloring, opt for natural food dyes that are made from plant-based ingredients, such as those made from beetroot, spinach, and carrots.
Use a white crayon or beeswax to draw designs or patterns on the egg before dyeing it. The wax will resist the dye, creating a beautiful design on the egg.
Eco-Friendly Easter Brunch
If you are going to dye Easter eggs, you most definitely should use them for your Easter Brunch. Whether it be Deviled Eggs, Egg Salad, or crumbled on top of a beautiful bed of greens, you'll be sure to impress your family with festive, fresh, hardboiled eggs that are safe, healthy and fun to consume!
Choose fresh fruits and veggies that are in season!
Apples – Apricots – Asparagus – Avocados – Bananas – Broccoli – Cabbage – Carrots – Celery – Collard Greens – Garlic – Ground Cherries – Herbs – Kale – Kiwifruit – Lemons – Lettuce – Limes – Mushrooms – Onions – Peas – Pineapples – Radishes – Rhubarb – Spinach – Strawberries – Swiss Chard – Turnips – All in season in April!
Try to find meat and poultry from a local source.
When you buy meat from a local source, you are supporting your local economy. You are helping to keep local farmers and ranchers in business, which can have a positive impact on your community.
Local meat is also more sustainable because it typically requires less transportation and packaging than meat that is shipped long distances. This can reduce the carbon footprint of the meat and help to mitigate climate change.
Local meat may be raised with fewer antibiotics and hormones than meat from large industrial operations, which can have potential health benefits for consumers. Additionally, some studies have found that locally sourced meat may contain more nutrients and vitamins than meat that is shipped long distances.
Easter Candy Swap-Out
There are many options to give children on Easter instead of sugary candies!
Making small fruit arrangements that are tucked into fun reusable containers can be colorful, fun, healthy and eco-friendly. You can select a variety of fruits like berries, apples, oranges, kiwis, bananas, and grapes.
You can make also your own healthy snacks at home like popcorn, roasted nuts, trail mix, energy bites, fruit leather, or vegan cookies using organic and eco-friendly ingredients. Use eco-friendly packaging like reusable containers or paper bags.
If you are looking for chocolate, opt for dark chocolate with a high percentage of cocoa. It is rich in antioxidants and has less sugar compared to milk chocolate.
Instead of edible treats, you can gift eco-friendly toys like wooden puzzles, recycled paper coloring books, or plantable seed paper. Give an herb garden kit that includes organic herb seeds, biodegradable planters, and soil. These can be a fun and educational gift for kids.
Remember, there are plenty of eco-friendly and healthy alternatives to celebrating Easter, or any holiday for that matter. Get creative and find options that are both fun and sustainable. Don't be afraid to give up the old, unconventional traditions. And definitely do not be afraid to stand up for the Earth, begin new traditions, and share this article so others can start doing the same.
Leave your Eco-Friendly swap out ideas in the comments!
Recommended Reading:
------------------------------------------------------------
----------------------------------------------------------------------------------------------------
---
---
---