The Great Smoky Mountains are one of the most popular tourist destinations in the United States year-in and year-out, but there's unexpected time of year when they come alive more than anywhere else — from late May through July, when one of the world's best fireworks shows take place deep in the middle of the area's verdant woods and forests.
This natural light show is so popular that spots fill up fast each May and June as part of a lottery not unlike what's happening in Zion National Park in Utah.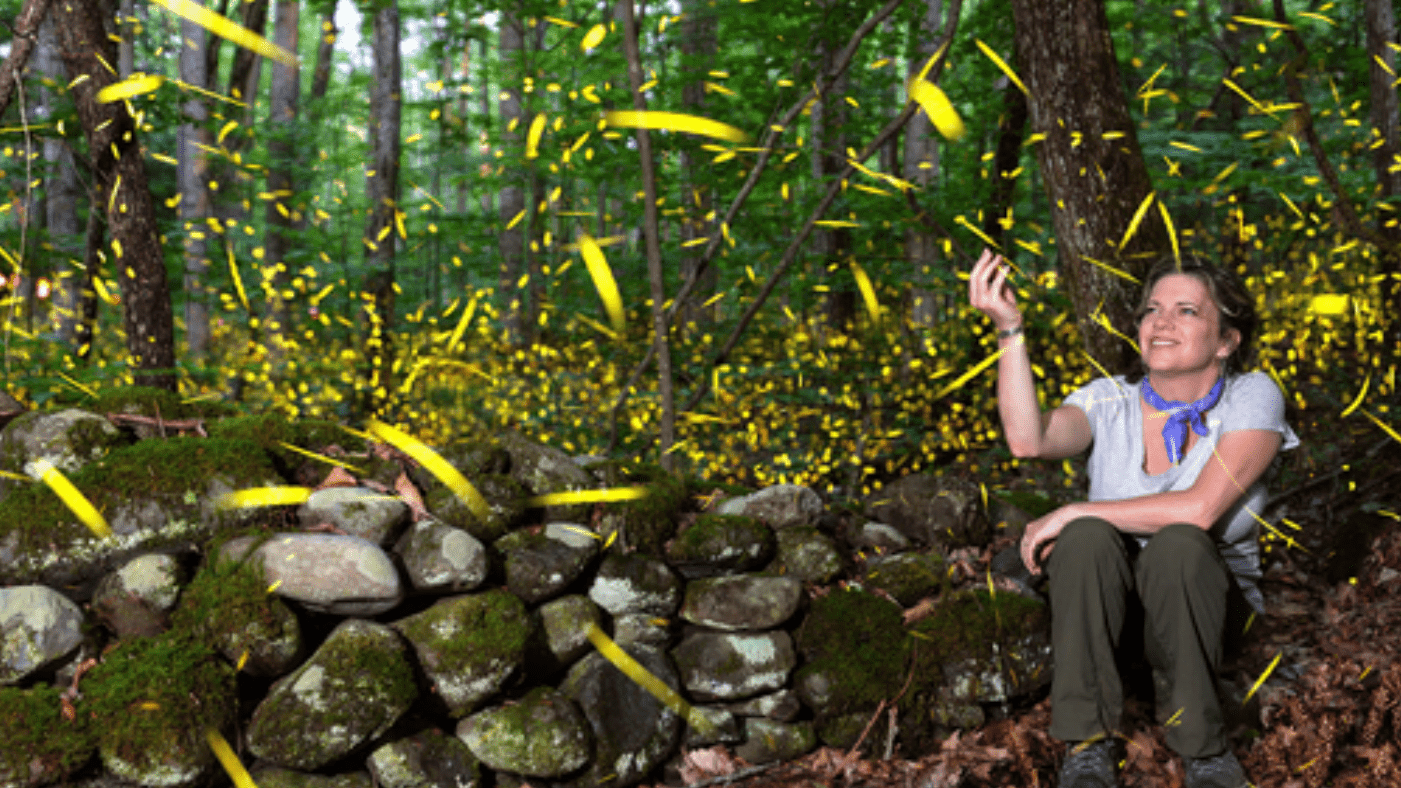 Great Smoky Mountains Firefly Viewing is Incredible
"The synchronous fireflies are an unforgettable experience that you simply MUST experience. The cost is minimal and it is a natural phenomenon that will amaze you" – Reviewer speaks about the event.
There are 19 species of fireflies in the area, which produces light shows like the ones seen below.
Passes are available each year at Recreation.gov, by clicking on this link and registering while they are still available.
Elkmont campground is just one of the many gorgeous natural locations in the Great Smokies near where the fireflies can be found putting on their annual show.
I personally witnessed something just like this on a much smaller scale at a nature preserve in Michigan.
There were fireflies all around me in the dead of night, and it was an exciting sight to be hold as they lit up the night's sky.
I felt like I was in the popular Disney movie Avatar for a while there, and it's just part of the reason why I would love to visit the Great Smokies, or another similar location, for a firefly show like this some day.
I mean, just look at these pictures!
The yellows of the fireflies really make the greens and other dark colors of the forest come alive.
I distinctly remember playing the music of Xavier Rudd, one of my favorite 'conscious' eco-friendly musical artists, during my time viewing fireflies.
A friend previously suggested we visit the Allegheny National Forest in Pennsylvania for a similar firefly viewing event on a much larger scale, but the timing didn't quite work out.
If you're a nature lover or a hippie at heart, you will find like-minded people at the firefly viewing event in Tennessee this summer, or at similar events that are being held around the country.
While these events weren't very well known until recently, they are gaining popularity among star-watchers, hikers, camping enthusiasts, kayakers, trail runners, wildlife lovers and everyone in-between.
It's an entirely new type of social event that brings together like-minded people. The dreamers among us who are enthralled by natural events such as the viewing of the moon and the stars, or meeting together on a beach for a late night bonfire.
It's like something out of a beer commercial, although these folks tend to prefer coffee, tea, dark chocolate and healthy snacks like trail mix and granola in my personal experience.
The Top Places to View Fireflies in the United States
As mentioned above, you don't necessarily have to go to a specific place or event to see fireflies in all of their glory.
But these places are as good of a bet as any to see the glorious insects in at peak saturation.
Any forest in late May to mid-June under the right conditions could give rise to some beautiful displays, and in my opinion it is totally worth going to see every time.
If you're looking for specific locations, here is the list of the Top 10 best places to view fireflies in all of their glory.
1. Great Smoky Mountains, Tennessee- 
Did we mention this tour even comes with its own firefly shuttles? They certainly take their firefly watching seriously down in Tennessee.
2. Congaree National Park, South Carolina- 
This lush forested land is encircled by swamps, making it ideal for firefly viewing during late May to mid-June. You won't find the same type of viewing audience or guides here that you might in the Great Smokies, however, so be sure to plan ahead by visiting the park's website.
This park is located in Hopkins, South Carolina.
3. Allegheny National Forest, Pennsylvania- 
This forest is rife with fireflies, and tourists love to visit for that specific reason.
The 10th Annual Pennsylvania Firefly Festival is happening June 2022, and information can be found here.
4. Blue Spring State Park, Florida- 
This firefly phenomenon tends to reach its peak from March through April, and is brought about by the heat and humidity of the area.
These lightning bugs love the moist and humid Florida air. Special passes are given out each firefly viewing season, so don't miss out.
Visit the park's website here.
------------------------------------------------------------
---