Tourism is the number one export industry in Arizona, with breathtaking locations like Sedona and the Grand Canyon to entice travelers each year.
Over 32 million people visited the Grand Canyon State in 2020, and most of them head for the well known locations like those mentioned above.
Arizona is a hiker's dream, but did you know that there are also plenty of exotic locales to kayak in this rocky, desert landscape?
One location in particular is as dazzling as anything you will find in the contiguous 48 states.
If you've never had the chance to explore an enchanting emerald cave, hot springs, or other natural, geologic wonders before, you will definitely want to check out this tour.
Petroglyphs, Beaches and Glass Bottom Kayaks Await in the Grand Canyon State
Located a little less than four hours west of Grand Canyon National Park is Willow Beach, Arizona, home to the Vegas Glass Kayaks tour of the Colorado River.
The tour features ancient petroglyphs, a brief hike to the Gauger house, a paddling exercusion through Emerald Cave, a gourmet picnic lunch on the beach and much more.
Words simply don't do it justice, and perhaps the best part is that you get to use a glass kayak along the way for a view of the fish and plantscapes beneath you like never before.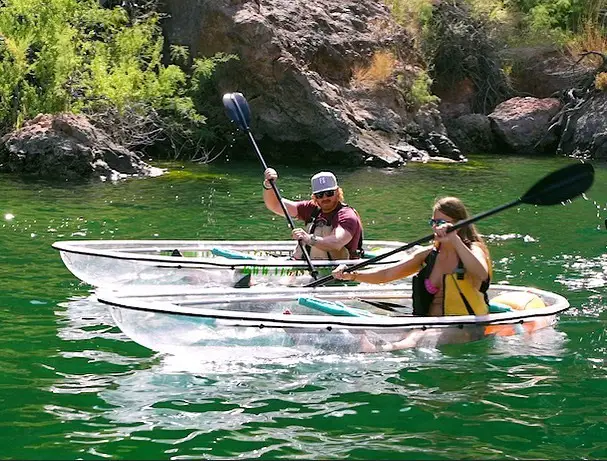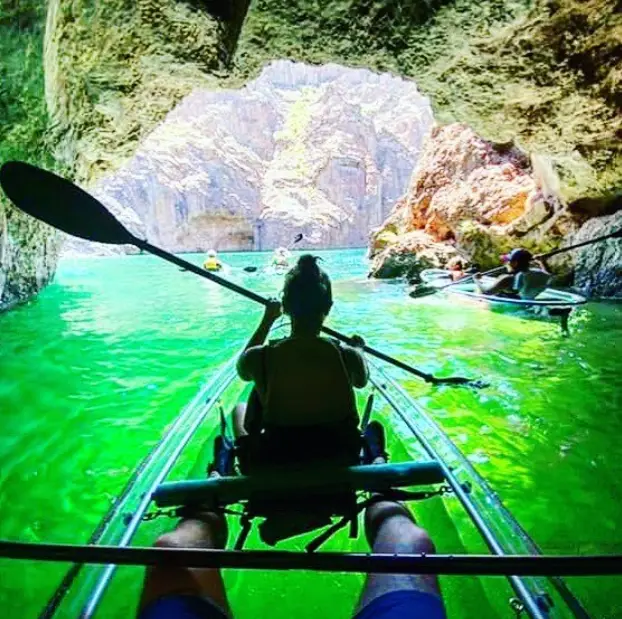 The kayaks are rented out by the Vegas Glass Kayaks company at a rate of $195 per person for the Emerald Tour.
The company offers a half-day tour with a gourmet lunch included, a full-day excursion, and even a nighttime Neon Tour, according to their website.
Guests will be treated to jaw-dropping views of the Colorado River, surrounding rock formations, wildlife such as bald eagles and bighorn sheep, and much more.
It's an unforgettable experience in so many ways, and these unique kayaks are a big reason why.
While the trip might look daunting, especially if you're afraid of looking down into the water while paddling in deeper areas, this trip is nevertheless suitable for everyone from kayaking novices to seasoned paddlers.
Canoe-kayak hybrids are also available and an experienced guide will help you along the way.
If you're an intermediate kayaker and are looking for the best trip to start out with, the Emerald Tour is your best bet.
It's all waiting for you 40 minutes outside of Las Vegas, and the tour includes the Colorado River, hot springs, the Black Canyon, the Emerald Cave, and the Hoover Dam among other locations.
The caves and river have low ceilings at times but lead to incredible destinations, including a hot springs area where you can climb a ladder to get to this relaxing and refreshing leg of the tour.
"The only "glass" kayak experience in the Black Canyon area of Lake Mead National Recreation Area. Just outside Las Vegas!," the company's Facebook page states.
Check out more pictures of the tour below:
If you prefer to kayak on your own time, these glass-bottomed kayaks are also available to purchase online, although they have been sold out lately.
Glass bottom, see-through rafts for both kids and adults are available, although they might not last as long as a full-fledged kayak…Check them out here, and happy paddling!
------------------------------------------------------------
----------------------------------------------------------------------------------------------------
---
---
---