The city of Los Angeles has had an immense problem with homeless citizens dating back quite some time, and the problem was projected to get worse in 2022.
Recently, the city agreed to spend upwards of $3 billion to help find homes for those struggling with the transition from homelessness to finding a more permanent place to live,
The news of this new investment has many excited about the prospects of solving this problem.
In the meantime, artists and locals have taken it upon themselves to make an impact in their own unique ways, including in Alexandria Park Tiny Home Village located in North Hollywood.
The new village, shown in the aerial and ground level photos below, is full of color and positivity.
It provides an exciting escape from the drabness of some of the surrounding buildings while also support those who are struggling in the city.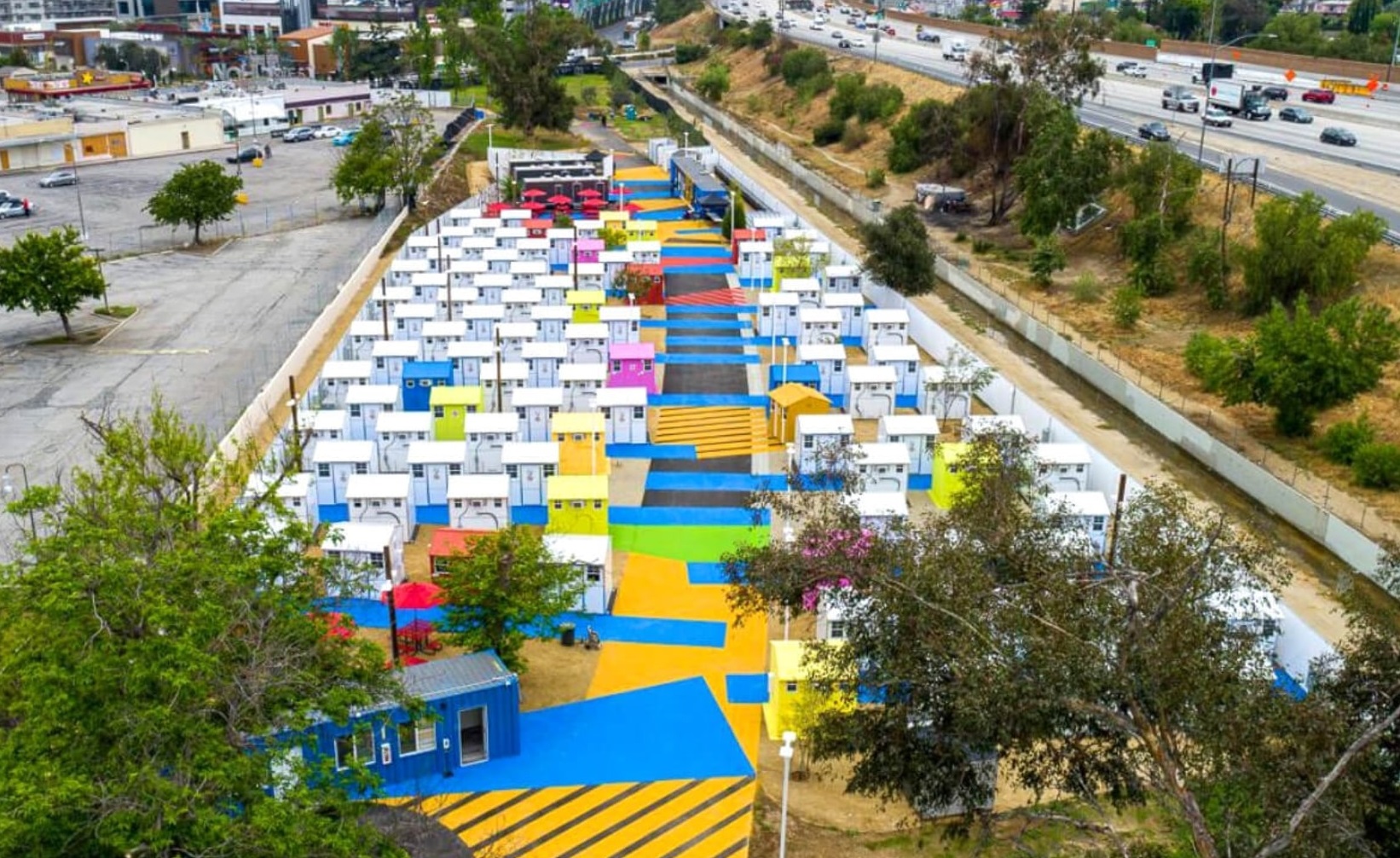 The village is the second of its kind designed and implemented by Lehrer Architects in conjunction with the Bureau of Engineering.
The home consists of 103 single and double-occupancy units, along with community structures and outdoor spaces.
In total, it can house up to 200 of the city's homeless population.
The site of the project is described as an "edge space," or an unused section of land near the freeway.
It was not sought out for development of traditional structures, which made it perfect for the tiny home village.
In addition to the tiny homes, the Village serves residents three meals each day, giving them access to community showers, restrooms, storage areas, dining areas, and support services.
Each tiny home includes a fold-down bed, heat, air conditioning, electrical outlets and locks.
"It is thrilling to be here using our medium to give, develop and invent form and processes to transform LA into a fully housed city," said Michael B. Lehrer, founding partner of Lehrer Architects.

"Making a difference is a joy of citizenship."
The village also has a no-alcohol policy and evening curfew, but residents are welcome to stay until they find a long-term solution.
Hopefully, cities continue to find creative solutions like this one to help the homeless get back on their feet — everyone is deserving of another chance!
Special thanks to Lehrer Architects for making this happen!
------------------------------------------------------------
----------------------------------------------------------------------------------------------------
---
---
---