Pythons are a huge problem in Florida.
First released into the wild as runaway (or slither-away) pets, the giant snakes have become virtually untouchable in the swamps and wetlands of Florida. They have virtually no predators, and have spread out over wide swaths of land, threatening other species.
The situation has become so bad that the state has begun paying hunters to kill the giant snakes, essentially putting bounties on their heads that some locals have made a career out of, at least temporarily.
Now, scientists have witness something on film that has people talking, and could shift the balance of power in the Florida swamps.
Bobcats Filmed Eating Python Eggs in the Wild for First Time Ever 
It is said to be the first documented time that wildlife has been spotted eating python eggs, according to a report from a local news media station.
Watch the video below to see why this is such a monumental event for the Florida ecosystem:
The bobcats have been fearless in snatching eggs and disrupting their breeding habits, as shown in the pictures below shared by a Florida resident named Dawn Renee'.
In the first picture, the bobcat can be seen at the nest of the python.
Then, the male bobcat is seen chowing down on the giant eggs.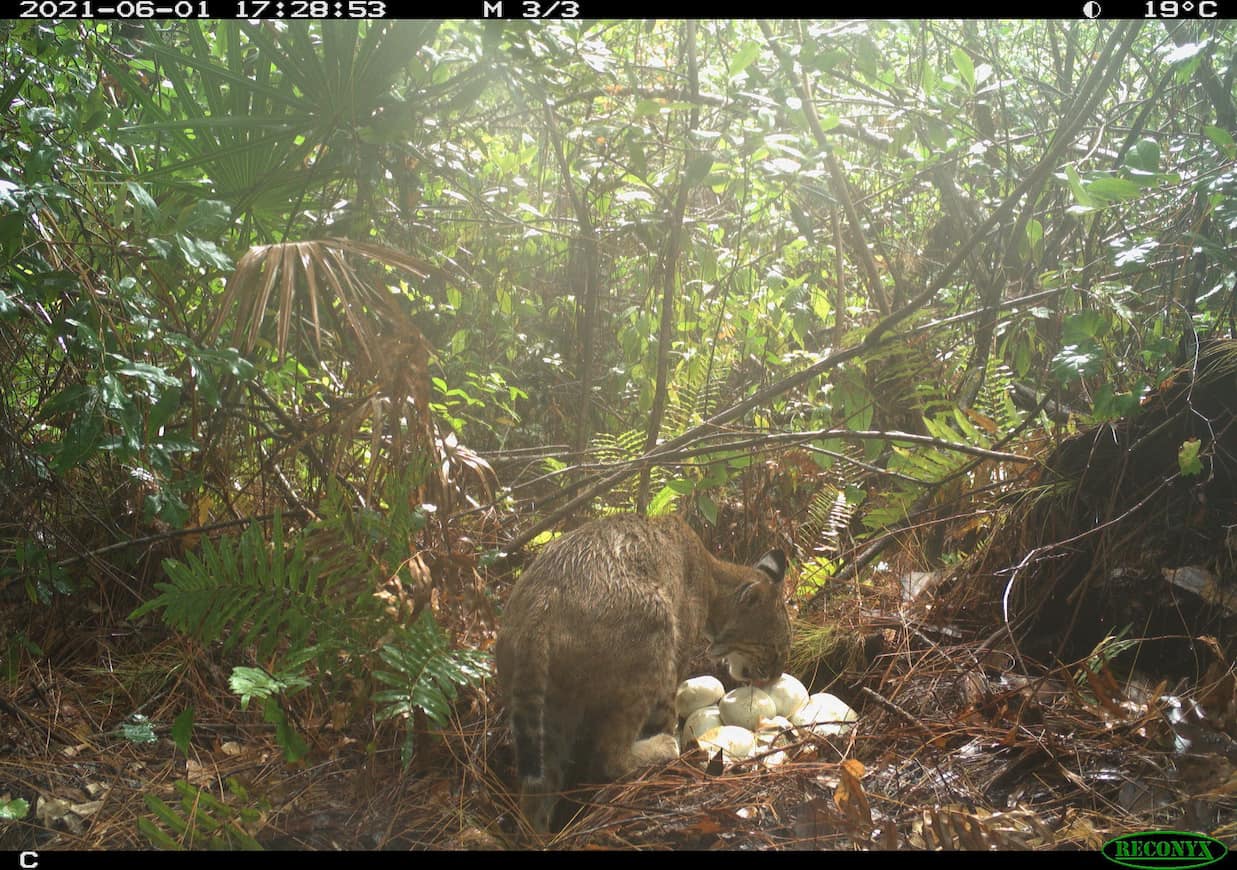 After smashing the eggs and burying the nest, the python mother returns, angry and aggressive over what just happened.
The bobcat is unfazed, and manages to dodge the python's attacks, as the clever and craft cats are known for doing (don't you just love these little guys?).
The snake remains coiled up and angry. The bobcat has successfully dodged its attacks, and the snake has lots all of its precious babies. It was bad news for the invasive python, but a huge win for Florida's ecosystem, which has been taken over by the predator-less snakes (unless you're counting humans) since they first became a part of the state's wildlands.
These bobcats truly are fearless! Wow!
Feel free to share this article with any cat lovers you may have in your life, and let us know what you think about this whole situation in the comments section of this article!
------------------------------------------------------------
---