We've all seen those amazing marriage proposal videos online. The typical kneel down on a beach during sunset, or in the middle of a restaurant cracking that ring box open. Some people get more creative and take marriage proposals to new heights. My father proposed to my mother by going up in a hot air balloon and proposing in the sky. Today, you're going to see a video of a man and a woman in Australia that was quite the wedding proposal. Quite the creativity here.
The man took his girlfriend to a nature exhibition where an Australian woman talks about this unique and rare species of a bird.
The woman with the bird starts out "Good day everyone. This is Euli, one of our beautiful Red-tailed black cockatoo." A beautiful bird as you can see in the video below.
The woman then asks "Who would like to meet this bird face to face?"
Somehow, the woman who is being proposed to jumps up and raises her hand in the air, as if her boyfriend encouraged her to meet the bird. She's no shy bird herself, she's a chipper outgoing one! That may be one of the things he loves about her. Full of life, energy and positivity, clearly.
The woman then instructs people to reach into their wallet and pull out a $5 note/bill.
The unsuspecting woman holds a $5 bill, and then the wildlife instructor shares "Euli should see that note and know exactly who to fly to."
After the bird somehow knows to land in her hand and get the $5 note from her (as opposed to many others in the crowd) the bird returns the $5 bill to the wildlife instructor.
The wildlife instructor then says "Euli will be delivering your receipt via email."
"Now once he does place that in the palm of your hand hold a few fingers over it for me." She adds.
"And would you mind opening it up and checking that it's got all the correct details in there." She adds.
The bird flies back to the same woman with a note, when the woman opens the note its a proposal from her boyfriend sitting next to her stating 'Will you marry me.'
She puts her hand over her mouth, looks at her boyfriend as he gets down on one knee. The crowd ouuu's and ahhhs.
Have a look at the video below:
That's quite a unique marriage proposal to setup and coordinate with the wildlife in the mix! What are some of the more unique marriage proposals you've seen?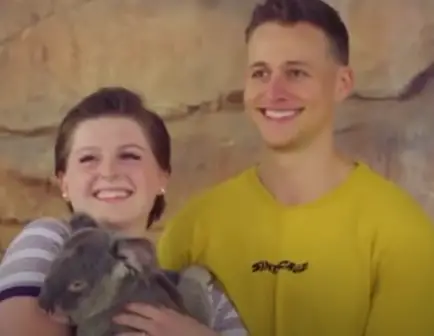 ------------------------------------------------------------
---