Winnie the Pooh is one of the most beloved characters ever created for both children and adults alike, and has been for over three decades.
The yellow bear, with his happy-go-lucky personality and soft-spoken voice, was created by author A.A. Milne over 30 years ago, and has been on the minds of millions ever since of who enjoy the series, and the title character, for his adventurous spirit.
Now, Winnie the Pooh fans can enjoy a hand-crafted experience that stands on its own as part of the series' unique universe, as part of a breathtaking Airbnb house inspired by Milne's Hundred Acre Wood.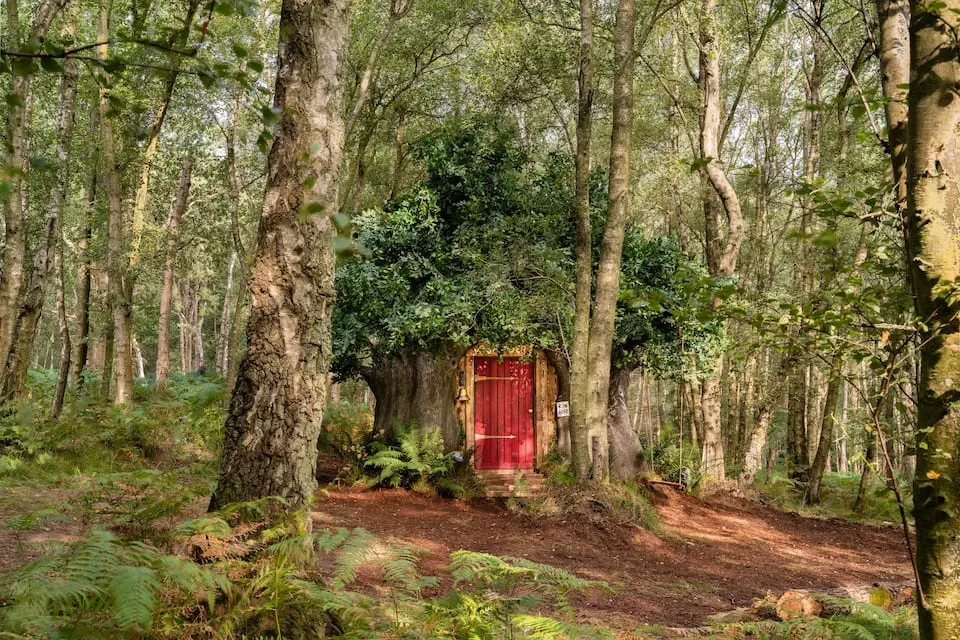 The charming house has been built with tree trunks framing the doorway and inside, shelves are piled high with hunny pots.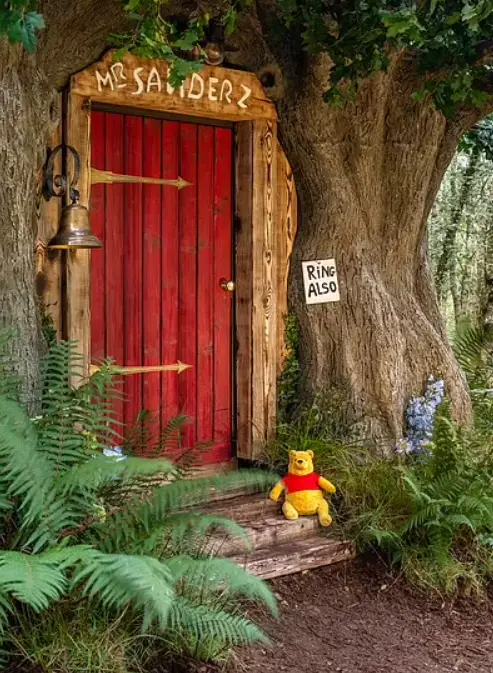 A few house rules apply including the most important one: no heffalumps allowed inside (the elephant like creatures that serve as semi-antagonists inPooh's world). It's also mandatory to play at least one game of Poohsticks during your visit.
The house was created by Disney illustrator Kim Raymond, who has been drawing Winnie the Pooh characters for over 30 years.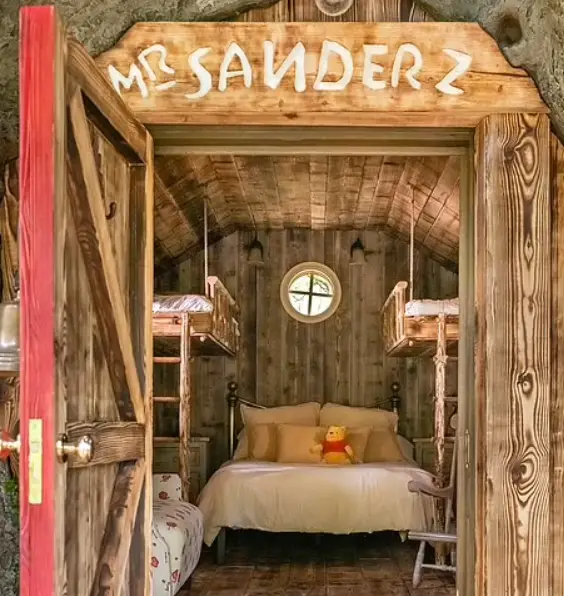 It's decorated with "hunny" pots and Pooh wallpaper, and tree trunks wrap around the doorway.
The house was designed from original book illustrations of E.H. Shephard when it came to designing the treehouse, which was built to mark the 95th anniversary celebration of Winnie the Pooh.
Guests receive a basket with personalized guests such as a plant, book and more.
"I have been illustrating Winnie the Pooh for 30 years and I continue to be inspired by the classic decorations of E.H. Shepard and the more recent Disney stories," Raymond said.
"The 'Bearbnb' is a unique experience that brings the charm of Pooh to life for fans, whilst honoring the original adventures that have been so important to many people for 95 years.'
Just like the children's books, 'Mr. Sanders' is written above the home's doorway.
It's located in Ashdown Forest, East Sussex in the United Kingdom, and it's a dream come true for anyone who loves the Winnie the Pooh series.
"Multiple naps" at the cozy location are encouraged.
"'Winnie the Pooh' is a childhood jewel beloved by families the world over," said Catherine Powell, Airbnb's Global head of Hosting.'
Ahead of the treehouse's unveiling, Catherine Powell, Airbnb's Global Head of Hosting, said:
'This year, the original books celebrate their 95th anniversary. What better way to commemorate A.A. Milne's classic work than with these two once-in-a-lifetime stays in the original Hundred Acre Wood. A perfect place to do nothing. As Pooh said, "doing 'Nothing' often leads to the very best Something".'
The check out the full listing, click here. Thanks for reading and good luck finding an open date!
------------------------------------------------------------

---