That first bite of chocolate chip cookie dough – so warm and gooey, with chocolate melting on your tongue. For many, sneaking a spoonful of that sweet dough is one of life's naughty yet delicious pleasures. However, we often regret it later, knowing the potential health hazards raw eggs or large amounts of butter and sugar pose. Those concerns make it hard to justify cookie dough as a regular breakfast treat. But now, you can eat cookie dough guilt-free in the morning while doing your body good!
This revolutionary new cookie dough is packed with superfoods and made without raw eggs, instead focusing on heart-healthy ingredients. Oats supply a dose of energizing whole grains, while almond butter provides protein and fiber. Added chia seeds offer a mega dose of nutrients like omega-3s, protein, and calcium. Warm spices like cinnamon give it a comforting flavor. Sweetened lightly with maple syrup instead of refined sugar, this clean dough delivers long-lasting energy to power you through your morning.
So go ahead – dig your spoon straight into the mixing bowl when you wake up! This dough makes for a satisfying breakfast treat that nourishes your body and your taste buds, without derailing your health goals. You'll feel the difference that wholesome ingredients make. With its supremely yummy flavor and stellar nutritionals, this guilt-free superfood cookie dough is sure to become your new favorite morning meal. Satisfy your cravings and appetite while doing something good for your heart and overall health.
Dark Chocolate Chip > Raisons
For too long, oatmeal chocolate chip cookies have been a dangerous game of raisin roulette that no one asked for. Just when you bite into a cookie expecting gooey chocolate chips, you're duped by the shriveled imposter raisin lurking within. But no more! This revolutionary breakfast cookie dough celebrates pure chocolate chip bliss in each and every bite.
With this recipe, you can plunge your spoon straight into the mixing bowl each morning, without a raisin in sight or an ounce of guilt weighing you down. This dough ditches the dicey raw eggs, refined flours, and gut-bombing sugars. Instead, it focuses on wholesome ingredients that nourish your body from the inside out.
Fiber-rich oats provide a substantial dose of whole grains to keep you fueled and focused during your morning. The oats also lend that signature hearty, toothsome texture. A dollop of protein-packed almond butter adds a nutty richness along with staying power to curb cravings.
Unlike with traditional recipes, no butter or cream weigh down this dough's nutrition stats. And dark chocolate chips deliver antioxidant power along with bursts of pure, cocoa bliss in each bite. No more suspicious imposter raisins in this dough!
To lend that satisfying oatmeal cookie taste without refined sugar, a touch of blackstrap molasses does the trick. The molasses adds notes of caramel and nostalgic richness. A dash of cinnamon ties all the comforting flavors together, so you'll feel like you're eating Grandma's secret recipe!
Thanks to these clean yet crave-worthy ingredients, you can enjoy this nourishing, guilt-free dough to your heart's content. Each scoop delivers a perfect balance of whole food nutrition to fuel your day with zero empty calories. So go ahead – dig in to this revolutionary breakfast cookie dough and satisfy your chocolate cravings the wholesome way!
Breakfast Cookie Dough Recipe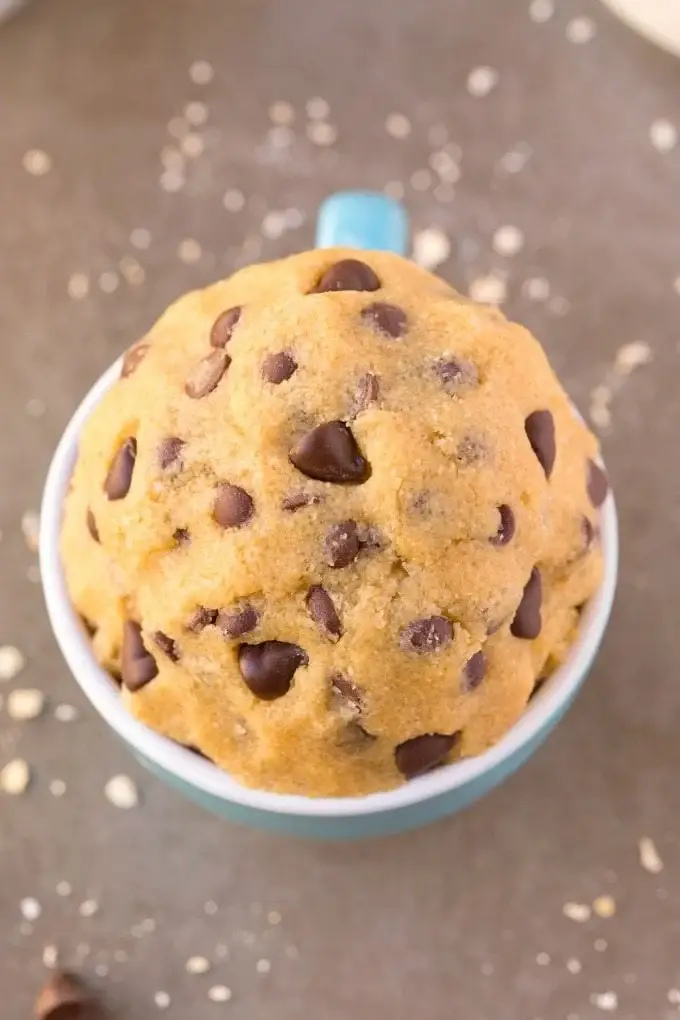 Enjoy a single serve bowl of oatmeal chocolate chip cookie dough designed specifically for breakfast! This no bake ,single serve recipe contains no butter, eggs, flour, sugar or dairy, and is suitable for those following a vegan, gluten free, dairy free and egg-free diet!
Ingredients
▢ 1/2 cup gluten free rolled oats
▢ 1-3 T granulated sweetener of choice, I like coconut sugar
▢ 1 scoop vanilla protein powder (optional)
▢ 2 T smooth cashew butter
▢ 1 1/2 T light agave nectar (can sub for pure maple syrup or dark agave syrup)
▢ 1/2 tsp blackstrap molasses can sub for extra agave/maple syrup**
▢ 1/2 tsp vanilla extract
▢ pinch sea salt
▢ Dairy free milk***
▢ 2-3 T dark chocolate chips
Instructions
BLENDER OPTION
Add the rolled oats into the blender/food processor, and blend until a flour is formed.
Add the rest of the ingredients, except for the milk and several chocolate chips.
Blend until fully immersed.
If batter is too thick/sticky, add a tiny amount of dairy free milk to desired batter thickness.
Remove from blender/food processor and place into a bowl.
Top with remaining chocolate chips and enjoy!
BY HAND OPTION
Blend oats until a fine flour is formed.
In a large mixing bowl, combine your oat flour, granulated sweetener, protein powder, sea salt and mix well.
Stovetop or in the microwave, melt your nut butter with sticky sweeteners.
Pour into the dry mixture, except for the chocolate chips.
Mix very well until combined. If dough is too thick, add dairy free milk until desired batter is formed.
Stir through chocolate chips and mix until combined. Transfer for a bowl and enjoy!
Notes
Adjust accordingly- If your protein powder is sweetened and you prefer a less sweet dough, use less.
Do not go overboard with molasses- It's very distinct and a little goes a long way!
If you want a creamier dough, add more. If you want a VERY thick dough, you may not even need any!
Oatmeal chocolate chip cookie dough is freezer friendly- If you want a thicker texture, refrigerate overnight before enjoying!
Nutrition
Serving: 1 serving – Calories: 100kcal – Carbohydrates: 2g – Protein: 3g – Fat: 4g – Sodium: 4mg – Potassium: 4mg – Fiber: 4g – Vitamin A: 4IU – Vitamin C: 4mg – Calcium: 4mg – Iron: 4mg – NET CARBS: -2g
Optional Superfood Additions
In Conclusion
With its wholesome ingredients and irresistible flavor, this superfood oatmeal chocolate chip cookie dough proves you can have your cake (or cookie) and eat it too – even for breakfast! Free of dairy, refined sugar, and raw eggs, this dough delivers on both taste and nutrition.
So go ahead and enjoy a scoop (or two!) of this power-packed dough to start your mornings off right. The protein, fiber, and healthy fats will keep you feeling energized and satisfied for hours. No more depriving yourself of sweet treats or wasting calories on empty junk food.
This better-for-you dough proves food can be both delicious AND good for your body and heart. Meal prep a batch on Sunday so you have grab-and-go breakfast bowls ready to conquer the week ahead. Your tastebuds, waistline, and heart will thank you for it! Don't wait to try this crave-worthy breakfast game-changer.
Recommended Reading:
------------------------------------------------------------
---