Have you ever carved out a few extra hours of your night to witness a rising "supermoon?"
Now that we've all had our fair share of cabin fever, it's time to get down to the business of focusing on what matters again.
Super moons are awesome, and there's one happening very soon along with a lunar eclipse.
Get those cameras ready!
Blood Flower Moon and 84-Minute Solar Eclipse Set to Happen This May
This impressive celestial event is scheduled to happen on Sunday, May 15 and into Monday, May 16.
Dubbed the full "Flower Moon," the event will begin with the moon turning a spectacular reddish color for 84 minutes, according to Jamie Carter, the editor of WhenIsTheNextEclipse.com.
The upcoming super moon will best be viewed in North and South America.
An event lasting this long hasn't been seen since July 27, 2018 when a "Blood Moon" was spotted in the air for 1 hour and 42 minutes.
In total, 2022 will see four supermoons.
Check out the graphic below, and bookmark this page for future reference if you want to see these moons in the night sky.
A Full Pink Moon is happening on April 16 as the appetizer, followed by the main course on May 16.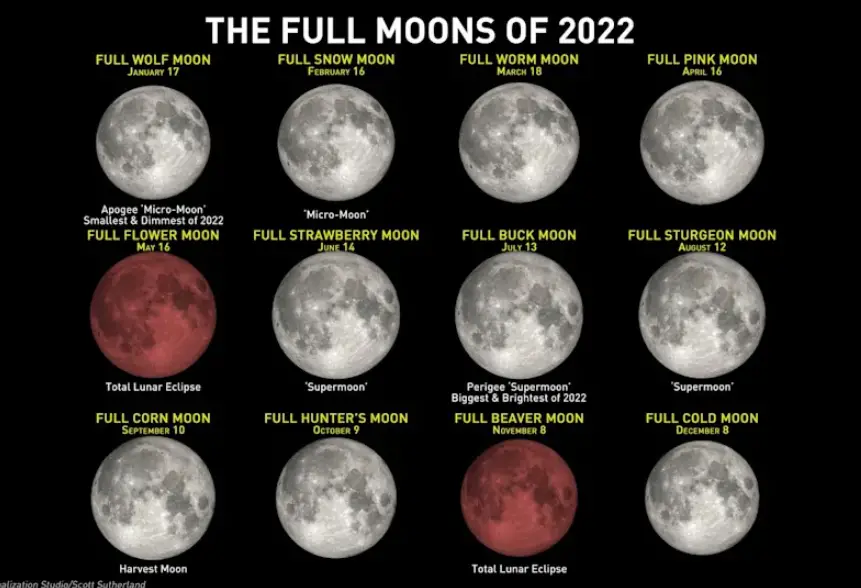 The sheer length of this incredible event won't be topped until a 102 minute event in June 26, 2029, so be sure to ready your astrophotography equipment ahead of time (this particular item was voted the best choice for Budget Astrophotography by Space.com if you're in the market for a new camera).
To see the big event, all you need are your two eyeballs. A little patience and a good friend or two also goes a long way.
In addition, a high quality camera for astrophotography helps as does a pair of binoculars if you want to get your close up views or photos.
The times for this stunning lunar eclipse are as follows in North America:
11:29 p.m.-oo:53 a.m. EDT on Sunday May 15-Monday, 16, 2022 (totality at 00:11 a.m.)
10:29-11:53 p.m. CDT on Sunday May 15, 2022 (totality at 11:11 p.m.)
9:29-10:53 p.m. MDT on Sunday May 15, 2022 (totality at 10:11 p.m.)
8:29-9:53 p.m. PDT on Sunday May 15, 2022 (totality at 9:11 p.m.)
This year will be the last chance to see a lunar eclipse like this until 2025, so be sure to let your friends know about what's happening.
We could all use a little magic in our lives right now, that much is for sure!
------------------------------------------------------------
---