In the ever-evolving pursuit of well-being and emotional balance, humans have sought solace in various remedies throughout history. Amidst the endless array of therapeutic interventions, a natural and scientifically-backed approach emerges in the form of houseplants.
These luscious emblems of nature have proven to be more than just mere decorations; they hold the power to influence our well-being on a profound level.
Recent scientific studies have unearthed the remarkable ways in which houseplants can impact the human body, specifically in reducing anxiety and depression. The connection between humans and nature, often referred to as biophilia, is deeply rooted in our evolutionary history, and it continues to shape our physiological and psychological responses to the world around us.
In this article, we delve into the captivating realm of mindful greenery and its effect on human health. Drawing on compelling research, we unveil the top five houseplants that have been scientifically proven to alleviate anxiety and depression, inviting you to embrace these botanical companions in your own home sanctuary.
The Science Behind House Plants
Researchers at Washington State University found that introducing indoor plants into the work environment significantly reduced stress and anxiety levels among office workers. The presence of plants in the office also led to a reduction in feelings of tension and depression while also improving overall well-being and job satisfaction.
Another study published in the International Journal of Environmental Research and Public Health, examined the relationship between green spaces and well-being. While not solely focused on houseplants, it reaffirmed the positive influence of nature on reducing stress and anxiety, supporting the idea that bringing nature indoors through houseplants has similar effects.
Overall, while the scientific evidence on the specific effects of houseplants on anxiety and depression is still evolving, these studies suggest that the presence of indoor plants may indeed offer significant benefits for emotional well-being.
5 Best House Plants To Relieve Anxiety & Depression:
Lavender (Lavandula angustifolia):
Lavender is widely known for its calming and soothing properties. The plant's fragrant aroma contains compounds like linalool and linalyl acetate, which have been shown to reduce stress and anxiety. Research published in the Journal of the Medical Association of Thailand found that inhaling lavender oil vapor can significantly decrease anxiety levels and improve mood.
Aloe Vera (Aloe barbadensis miller):
Aloe vera is more than just a plant for skin care; it can also have positive effects on mental well-being. This succulent plant helps purify the air by removing volatile organic compounds (VOCs) such as formaldehyde and benzene. Cleaner air quality has been linked to improved mood and cognitive function, making aloe vera an excellent addition to your living space.
Snake Plant (Sansevieria trifasciata):
The snake plant, also known as Mother-in-Law's Tongue, is another air-purifying champion. It absorbs pollutants like formaldehyde, xylene, and toluene, contributing to better indoor air quality. A study conducted by the University of Agriculture in Norway found that the presence of snake plants in indoor environments can lead to a significant reduction in stress and tension.
Rosemary (Rosmarinus officinalis):

Rosemary is not only a delicious herb for cooking but also a potent stress-reliever. The aroma of rosemary has been associated with improved cognitive performance and reduced stress levels. A study published in the International Journal of Neuroscience showed that exposure to rosemary essential oil led to lower cortisol levels, the hormone associated with stress.

Jasmine (Jasminum spp.): As mentioned in the previous response, jasmine plants emit a delightful fragrance known to have calming effects on the mind and body. A study published in the Journal of Biological Chemistry found that the scent of jasmine can positively influence the brain's GABA receptors, which promote relaxation and reduce anxiety levels.
While these plants can be beneficial in promoting emotional well-being, it's essential to remember that they are just one part of a holistic approach to managing anxiety and depression.
Red Light Therapy has been clinically proven to reduce stress and anxiety. It can also improve sleep quality, reduce pain, and boost energy. Best of all, you can do it right in your own home.
Learn More About Mito Red Light Therapy Here.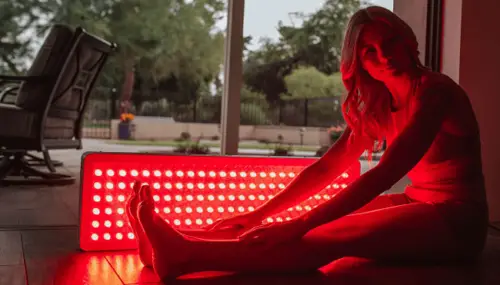 Having a balanced diet, adaquate sleep, and exercise is very important for mental health. Professional help, such as therapy and counseling, should always be sought for those experiencing significant emotional distress.
By incorporating these scientifically-proven plants into your living space, you can create a serene environment that fosters a sense of tranquility and peace, supporting your journey towards a healthier and happier mind.
As we draw our journey through the wonders of mindful greenery to a close, we are reminded of the profound interconnection between humanity and the natural world. From the calming embrace of lavender to the uplifting spirit of rosemary, these plants offer us more than just beauty and fragrance.
They embody a timeless truth – that nature, in all its splendor, holds the power to heal, rejuvenate, and inspire us.
As we continue to explore the scientific evidence behind the positive effects of houseplants on anxiety and depression, let us also remember the broader lessons that nature teaches us. Just as plants grow and thrive, adapting to their environment with resilience and grace, so too can we cultivate our mental and emotional well-being.
So, whether you're a seasoned plant enthusiast or a newcomer to the world of greenery, consider inviting these botanical allies into your life. Let them serve as gentle reminders to pause, breathe, and find refuge in the simple joys of nature.
Recommended Reading:
------------------------------------------------------------
---