One of the world's most famous footballers died today at 82 years old. Pelé was one of the most well known and iconic athletes to ever walk the earth. He was a player for the futbol (soccer) team of Brazil. He had been battling and undergoing treatments for Colon cancer since 2021. The hospital that Pelé died at said he died from multiple organ failure on thursday.
Pelé was named 'The King' as he won three world cups with his native team Brazil. One of the greatest to ever play the game of soccer.
Pelé made soccer a massive sport and he changed the art form of the sport. A symbol and an icon worldwide. His first world cup was back at the age of just 17 in 1958, he scored three goals in a semi-cup final against France and then scored two more in the final against Sweden to win his first world cup. He also helped them win the 1962 world cup even though he was injured for a portion of it. He came back in 1970 and won it again.
He won three different world cups in three different decades. He forever changed the game of soccer. His on the field theatrics, he was thinking three steps ahead. He made soccer funner to watch than it ever had been which really opened up the sport further on an international level. He was doing things that people were in awe of. He did it first, and stood out as someone changing the sport of soccer forever.
He was doing this long before the Messi's, Ronaldo's and Neymars did. He forever shaped and changed the sport of soccer.
Pelé Grew The Sport of Soccer (Futbol) In The US And Around The World
His style of play and joy brought so much love and enthusiasm for the sport of soccer. It really set the groundwork for what has now become major league soccer in the US. This really set the stage for professional soccer in the US for both men and women. He grabbed the imagination of so many people here. He was proficient, efficient and legendary on the field.
But What Will Be Remember Most About Pelé?
He came from very poor and humble beginnings. A black athlete from Brazil that broke barriers. Many compare him to Jackie Robinson for baseball here in the USA. Pelé did this globally for the sport of soccer. But what may be most remembered is his joy and enthusiasm. This is what he brought to the world for his love of soccer.
Everywhere Pelé went people wanted to be around him. He had an infectious personality, similar to Magic Johnson with his smile and personality in basketball. He drew people in with his joy. His sense of joy will never be forgotten.
Cristian Ronaldo Shares His Condolences For Pele On Facebook:
My deep condolences to all of Brazil, and in particular to the family of Edson Arantes do Nascimento. A mere "goodbye" to the eternal King Pelé will never be enough to express the pain that the entire football world is currently embracing. An inspiration to so many millions, a reference yesterday, today and forever. The love you always showed me was reciprocated in every moment we shared even from distance. He will never be forgotten and his memory will live forever in each and every one of us football lovers. Rest in peace King Pelé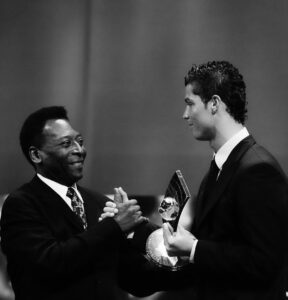 Pele's Legacy Was Larger Than Life
He was a positive beacon of hope, joy, inspiration and passion for all around him. He brought inspiration to Brazilians not only in Brazil but Brazilians and Portuguese worldwide. Not only that, he inspired Americans, Europeans, Africans and more. People from all over the world were inspired by his life. He will forever be remembered as one of the most iconic athletes to ever live. Thank you for your inspiration and what you brought to the world Pele.
Watch Pele's Top 10 Goals Here
Pele was made for futbol, and many say that futbol was made for him.
------------------------------------------------------------
---