We often focus a lot on the different aspects of health, including food, water, sunlight, exercise, and even the different aspects pushed on us by the medical industry.
But the most overlooked? Friendship and community, according to countless studies that show how important our peers and peer groups are for mental and emotional health.
Perhaps the most difficult aspect of this pillar of health, however, is that we can't always be around the people who are meant to be in our lives for various reasons.
Life is a journey, and sometimes we are forced to make due with what we have where we are at each particular time.
Orphaned Kangaroo Makes Friends with a Stuffed Teddy Bear
Recently, a blog named Aubtu profiled one of the sweetest and most unlikely stories of friendship, namely, a friendship between an orphaned kangaroo and his best buddy, a stuffed teddy bear.
Meet Doodlebug, an orphaned baby kangaroo who lives in the Northern Rivers region of New Wales, Australia. He is being taken care of by the wildlife rehabilitator Gillian Abbott.
Abott and her son Tim, who advises the senator for Tasmania Peter Whish-Wilson, have taken care of this sweetheart kangaroo since he was a baby found abandoned in the wild.
Contrary to what some may think, Doodlebug is an Eastern grey kangaroo and not a wallaby.
Photos of Doodlebug and his best friend have melted hearts since they were released recently, showing the value of a good hug, even from a stuffed animal.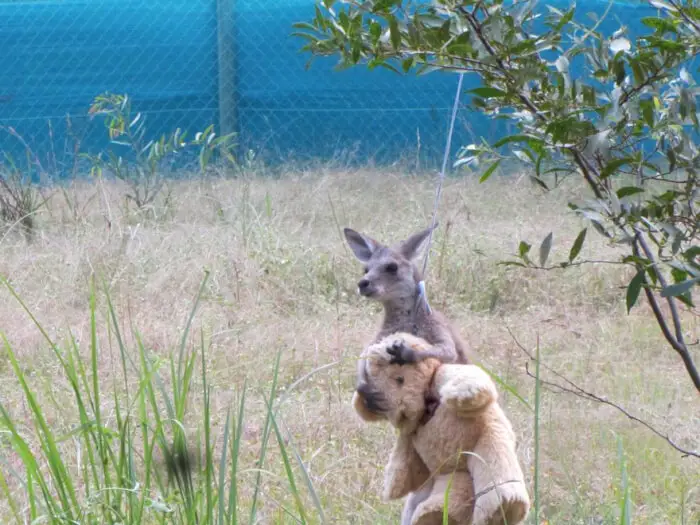 "He may have fallen out of his mother's pouch or his mother may have died," Beshara told the Daily Mail. "He was a couple of months old when he was passed onto my mother's wildlife company WIRES. She has since nursed it back to health and it is now hopping around the forest and coming back for the occasional feeding or cuddle, as the image shows."
The adorable kangaroo is now big and healthy enough to return to the wild, but some worry he is not quite ready to face it without a little help from Abbott and her organization.
Abbott gave Doodlebug a fuzzy bear to snuggle with in order to give him a friend to help him find comfort, and to help him grow.
Their friendship is now cemented as one that can only be seen in its full glory through picures like the ones seen here. The sweet kangaroo loves his bear, and there is nothing that can separate them, for the time being anyway.
"They seem to respond to the toys much in the same way as a toddler. They treat it as a companion," says Abbott.
Doodlebug lost his mom and his home, so no wonder he loves hugging his favorite bear so much.
With the help of this bear, he will recover quickly and return to the wild where he belongs.
Please share this post with family and friends who might enjoy these pictures as much as we did!
Related: Steve Irwin's Young Son is an Award-Winning Photographer, and These are the Photographs That Prove It
------------------------------------------------------------
----------------------------------------------------------------------------------------------------
---
---
---