Colon cancer, also known as colorectal cancer, is a life-threatening disease that affects the digestive system. It arises from abnormal growths, known as polyps, in the colon or rectum. If left untreated, these polyps can develop into malignant tumors, causing severe health consequences. Despite advances in medical science, colon cancer remains a major global health concern.
Sangre de Grado, an ethnomedicinal red tree sap obtained from Croton spp., has been traditionally used to treat gastrointestinal ulcers, cancer, and promote wound healing. In recent research, scientists have explored the potential of Sangre de Grado (SdG) as a powerful ally in the fight against cancer. This study aimed to evaluate the effects of SdG on human cancer cells, specifically AGS (stomach), HT29, and T84 (colon), to assess its potential as an anti-cancer agent.
Effects on Cancer Cells: The study found that treatment with SdG led to a significant decrease in cell viability in a dose-dependent manner over a 24-hour period. This means that higher concentrations of SdG resulted in a greater reduction in the number of viable cancer cells. Furthermore, cell proliferation at 48 hours was significantly reduced in all cells treated with SdG at concentrations greater than 100 micrograms per milliliter.
One interesting observation was that treatment with SdG compromised cell adherence in suspension, rendering the cancer cells unable to attach to surfaces. This disruption in cell adherence was severe, affecting over 85% of the cells. Additionally, the researchers detected the occurrence of apoptosis, a programmed cell death mechanism, in cells treated with SdG at a concentration of 100 micrograms per milliliter. This was confirmed by observing nucleus condensation and DNA fragmentation through ELISA and flow cytometry.
Moreover, the researchers used acridine orange to assess morphological changes in the treated cells. The results indicated that SdG induced morphological alterations similar to those observed with Taxol, a known anti-cancer drug. These changes suggest that SdG affects the microtubular architecture of both stomach and colon cancer cells.
Conclusion and Future Implications: The induction of apoptosis and damage to microtubules in AGS, HT29, and T84 cells highlight the potential of Sangre de Grado as a source of anti-cancer agents. These findings suggest that SdG could play a significant role in inhibiting the growth and spread of colon cancer cells.
The study demonstrates the need for further investigation into the therapeutic properties of SdG. Future research should focus on identifying the active compounds present in SdG responsible for its anti-cancer effects. Understanding the mechanisms of action can help scientists develop targeted therapies and potentially enhance the treatment options for colon cancer patients.
One of the major advantages of using natural compounds like SdG is their potential for lower toxicity compared to conventional chemotherapy drugs. While conventional treatments often have significant side effects, the use of natural compounds may offer a more tolerable and patient-friendly approach.
It is important to note that this study was conducted in vitro, using cancer cell lines in a controlled laboratory setting. Further studies, including preclinical and clinical trials, are necessary to determine the safety, efficacy, and appropriate dosage of SdG in humans.
Sangre de Grado shows promising potential as a natural anti-cancer agent against colon cancer. This research paves the way for further exploration of SdG and its active compounds as a potential adjunct or alternative therapy for individuals affected by this deadly disease. With continued scientific investigation, we may unlock the full therapeutic potential of Sangre De Grado.
In the pursuit of optimal health, individuals are constantly seeking natural solutions that can provide comprehensive support to various aspects of their well-being. Radiate 21, a revolutionary formula, offers a unique blend of powerful ingredients carefully selected to promote overall health and vitality. Let's explore the key components of Radiate 21 and understand their potential benefits.
Additionally, Radiate 21 contains 15 other ingredients carefully chosen to support gut health, strengthen the gut lining, improve lymphatic health, and provide protection against electromagnetic frequencies (EMFs). This comprehensive approach ensures that Radiate 21 addresses various aspects of health, ranging from digestive wellness to cellular protection.
As with any supplement, it is important to consult with a healthcare professional before incorporating Radiate 21 into your routine, especially if you have any underlying medical conditions or are taking medications.
Radiate 21 is a groundbreaking formula that combines the power of Sangre de Grado, Una de Gato, Ashwagandha, Suma, Camu Camu, and other carefully selected ingredients to provide holistic support for optimal health. By integrating these potent natural compounds, Radiate 21 aims to promote vitality, enhance gut health, support hormonal balance, and provide protection against environmental stressors. Embrace the power of Radiate 21 and unlock the potential for a healthier, more vibrant life. Click here to visit Radiate21.com and be sure to use the discount code 'radiate10' to receive 10% off your purchase of any bottle quantity!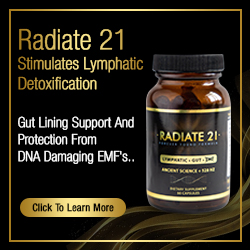 Click here to visit Radiate21.com today!
Recommended Reading:
------------------------------------------------------------
---