Ashwagandha, also known by its scientific name Withania somnifera, is a revered medicinal herb deeply rooted in Ayurvedic medicine, where it has been treasured for centuries. This remarkable herb offers a myriad of benefits for both the body and mind, making it a popular choice among individuals seeking natural remedies. In this comprehensive article, we will delve into the top 10 health benefits of ashwagandha, backed by scientific studies that shed light on its efficacy.
Stress and Anxiety Relief: One of the most well-known benefits of ashwagandha lies in its adaptogenic properties, which help the body cope with stress and reduce anxiety levels. A study published in the Journal of Alternative and Complementary Medicine in 2019 found that ashwagandha root extract significantly reduced stress and anxiety levels in individuals experiencing chronic stress.
Improved Cognitive Function: Several studies have explored the effects of ashwagandha on cognitive function, highlighting its potential to enhance memory, attention, and overall cognitive abilities. In a randomized, double-blind, placebo-controlled trial published in the Journal of Dietary Supplements in 2017, participants who consumed ashwagandha extract showed significant improvements in cognitive performance, including attention and information processing speed.
Boosted Energy and Vitality: Ashwagandha has long been revered for its rejuvenating properties, which can help combat fatigue and increase energy levels. A study published in the Journal of Ayurveda and Integrative Medicine in 2012 demonstrated that ashwagandha root extract supplementation led to improved energy levels and enhanced physical performance in healthy individuals.
Enhanced Immune Function: Ashwagandha is known for its immune-modulating effects, which can strengthen the body's natural defense mechanisms. A study published in the Journal of Ethnopharmacology in 2011 revealed that ashwagandha extract increased the activity of natural killer cells, which play a crucial role in the immune response against infections and cancer cells.
Reduced Inflammation: Inflammation is at the core of many chronic diseases, and ashwagandha's anti-inflammatory properties make it a promising natural remedy. Research published in the journal Phytomedicine in 2015 showed that ashwagandha root extract exhibited potent anti-inflammatory effects by inhibiting the production of pro-inflammatory cytokines.
Hormonal Balance: Ashwagandha has been traditionally used to support hormonal balance, particularly in women. A randomized, double-blind, placebo-controlled study published in the Indian Journal of Psychological Medicine in 2012 found that ashwagandha supplementation led to significant improvements in menstrual regularity and hormone levels in women with menstrual irregularities.
Improved Sleep Quality: Ashwagandha's ability to promote relaxation and induce restful sleep has been well-documented. A study published in the journal Cureus in 2020 demonstrated that ashwagandha supplementation improved sleep quality and reduced sleep onset latency in individuals with insomnia.
Support for S*xual Health: As an adaptogenic herb, ashwagandha has been traditionally used to enhance libido and improve s*xual performance. A study published in the Journal of S*xual Medicine in 2019 found that ashwagandha supplementation significantly improved sexual function scores and testosterone levels in men with infertility.
Blood Sugar Regulation: Emerging research suggests that ashwagandha may play a role in regulating blood sugar levels. A randomized, double-blind, placebo-controlled study published in the Journal of Ethnopharmacology in 2013 found that ashwagandha root extract supplementation improved insulin sensitivity and reduced fasting blood sugar levels in individuals with type

2 diabetes.
Anti-Aging Benefits: Ashwagandha's rich antioxidant content contributes to its potential anti-aging effects. Antioxidants help combat oxidative stress and damage caused by free radicals, which can accelerate the aging process. A study published in the Journal of Aging and Longevity in 2014 demonstrated that ashwagandha supplementation significantly increased the activity of natural antioxidant enzymes in the body, offering protection against age-related cellular damage.
While the aforementioned benefits of ashwagandha show great promise, it is important to note that individual results may vary. As with any herbal supplement, it is advisable to consult with a healthcare professional before incorporating ashwagandha into your regimen, especially if you have any underlying health conditions or are taking medications that may interact with it.
How To Get Ashwagandha in?
Ashwagandha is one of twenty-one ingredients in the Radiate 21 formula. This formula has been created for energy, strength and vitality. It supports the strength of your body by fortifying the gut lining, helping the lymphatic system detoxify and protecting from free radical damage and oxidative stress caused by radiation & EMF's.
You can learn more about this revolutionary formula combining Amazonian, Ayurvedic & Chinese botanicals in one formula at Radiate21.com. Use the discount code: radiate10 for 10% off your order. Enjoy!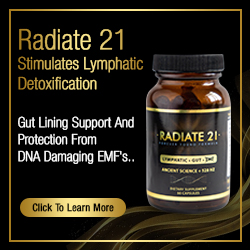 Ashwgandha is just one of the many powerful antioxidants in the Radiate 21 formula. Click here to visit Radiate21.com today.
In conclusion, ashwagandha is a remarkable herb that has stood the test of time in traditional medicine. With its adaptogenic properties and a wide array of health benefits, it has captured the attention of researchers and health enthusiasts alike. Scientific studies have shed light on its potential to alleviate stress, enhance cognitive function, boost energy levels, support the immune system, reduce inflammation, promote hormonal balance, improve sleep quality, enhance s*xual health, regulate blood sugar levels, and offer anti-aging benefits. As more research is conducted, ashwagandha's role in promoting overall well-being continues to be explored, solidifying its position as a valuable herb in the realm of natural health.
Recommended Reading: 
------------------------------------------------------------
---