Most people have been camping before, dating back to their carefree days as a youth.
Camping has changed a tremendous amount in the past five to ten years, evolving from the usual tent-based style to something much more lavish and a lot less gritty.
The style I'm referring to has been dubbed 'glamping,' and it's becoming one of the hottest trends for adventure seekers looking for new ways to explore the outdoors in style, affordability, and luxury.
What is Glamping and Why is It Becoming So Popular?
Glamping is "where stunning nature meets modern luxury," according to Glamping.com.
It's also a "way to experience the untamed and completely unique parts of the world, without having to sacrifice creature comforts," the website added.
Upon visiting a glamping site, you will likely be able to tell the difference immediately in comparison with traditional lodging. It's far more immersive and far more modernized, for starters.
 

View this post on Instagram

 

The goal is to provide the traveler a sense of minimalism, luxury, community (at times), and immersion.
These spaces are inspiring from an architectural standpoint, allowing for something different than usual.
"The way we travel has changed. We no longer want a generic, one-size-fits-all vacation.

We want to explore on our terms and immerse ourselves in local culture, and we no longer just want to simply witness nature—we want to live in it," wrote Glamping.com in their description of the growing trend.
"A fusion of glamour and camping, glamping is a way to authentically experience the most awe-inspiring locales around the world."
StarStruck Glamping Near Big Bend National Park is the Perfect Example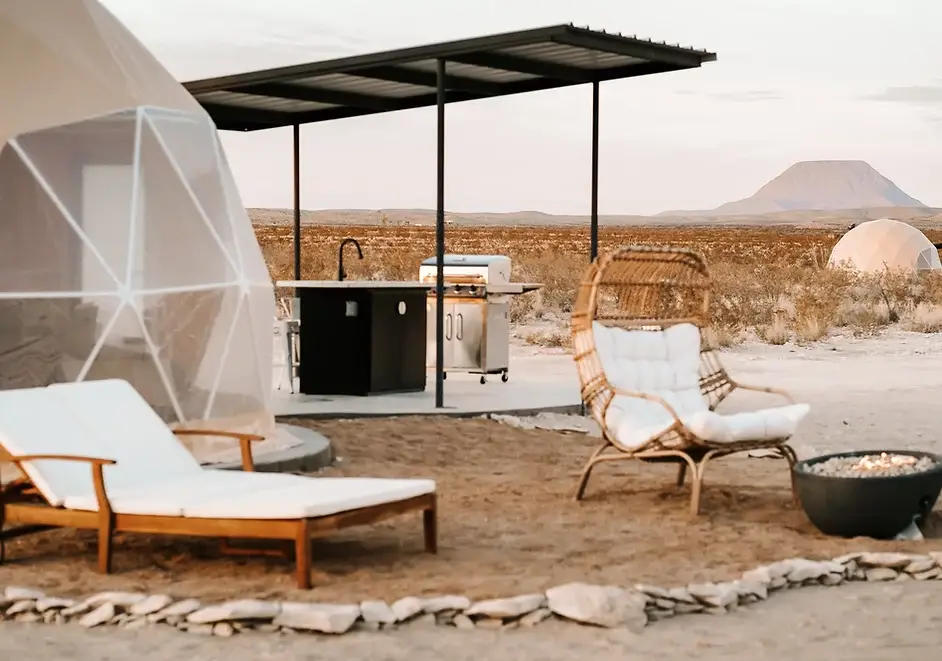 The right glamping experience should evoke a feeling of wonder in the traveler, and few if any places represent that feeling like StarStruck Glamping near Big Bend National Park in Texas.
Established in 2021, StarStruck is located in the middle of nowhere, in the best possible way. It's the perfect place to view the stars above, or the complete Milky Way on special nights.
StarStruck Glamping is located within 30 minutes of Big Bend National Park's entrance, and has received all five-star reviews on Google since these luxury sites first became available last year.
The national park is incredible, but the desert mountain views are just as stunning. The domes are located right in the middle of the open, allowing "glampers" to feel as though they are one with nature.
The views from your room are wide open and expansive, unlike what you will find in traditional lodging and hotel accommodations.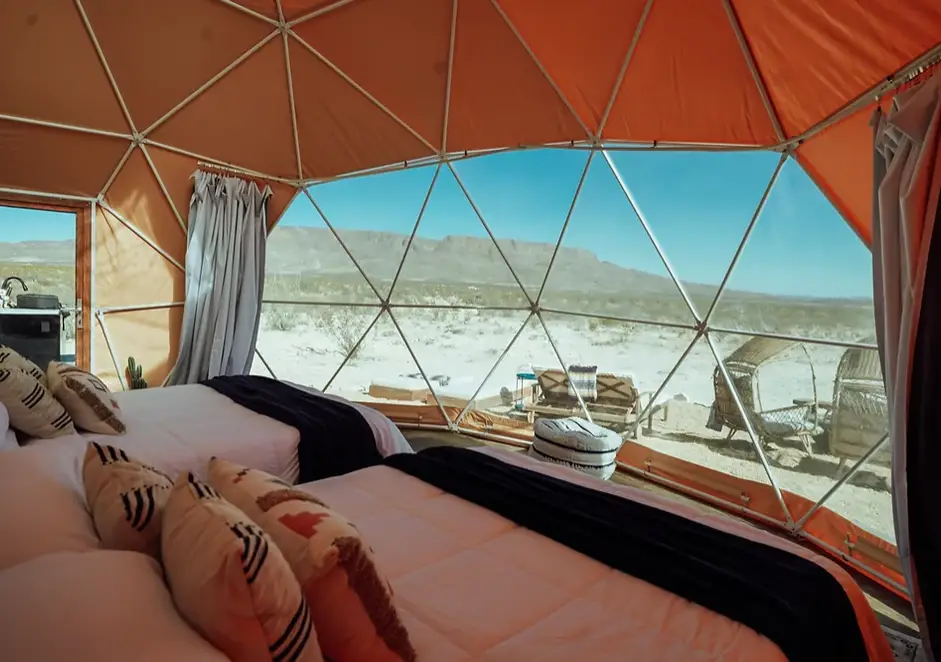 The geodesic domes accommodate up to four people with two queen beds, and two of their sites accommodate up to two people.
They come with privacy built-in and 200 feet of space between each other.
Each dome comes with a shaded outdoor dining & kitchen area, mini-split heating/cooling, a tiled bathroom with a shower, vanity and flushing toilet, mini-fridge, microwave, coffee maker and much more.
This is the perfect place to visit if you're looking for an unforgettable glamping experience!
 

View this post on Instagram

 
Starstruck Glamping is located in Terlingua, Texas. It offers protected dark skies, is solar powered, and features incredible, epic mountain views.
For more information or to book a room, check out StarStruck Glamping on its website, StarstruckGlamping.com, or on its Instagram or LinkTr.ee pages.
------------------------------------------------------------
---