Will Smith won his first-ever Oscar Award as Best Actor for his role as Serena and Venus Williams' father Richard Williams on Sunday night, but it's not his historic win that is now being talked about.
Smith has made worldwide headlines for an entirely different reason than his portrayal as the tennis stars' father, and it has millions of people debating whether he was justified in his actions or not.
Will Smith Takes Great Offense to Chris Rock's Joke About His Wife's Hair Loss
It all began when Rock, 57, made a joke about Smith's wife Jada Pinkett Smith, 50, who was sitting next to him at the popular awards ceremony.
"Jada, I love ya. G.I. Jane 2, can't wait to see ya," Rock said to Pinkett Smith, referencing her recently shaved head.
Rock was referencing a movie starring Demi Moore called G.I. Jane in which she shaves her head in a bid to become a Navy Seal.
Pinkett Smith suffers from an autoimmune disorder called alopecia that causes her hair follicles to fall out out.
Smith Takes the Stage, and Takes Out His Frustration on Chris Rock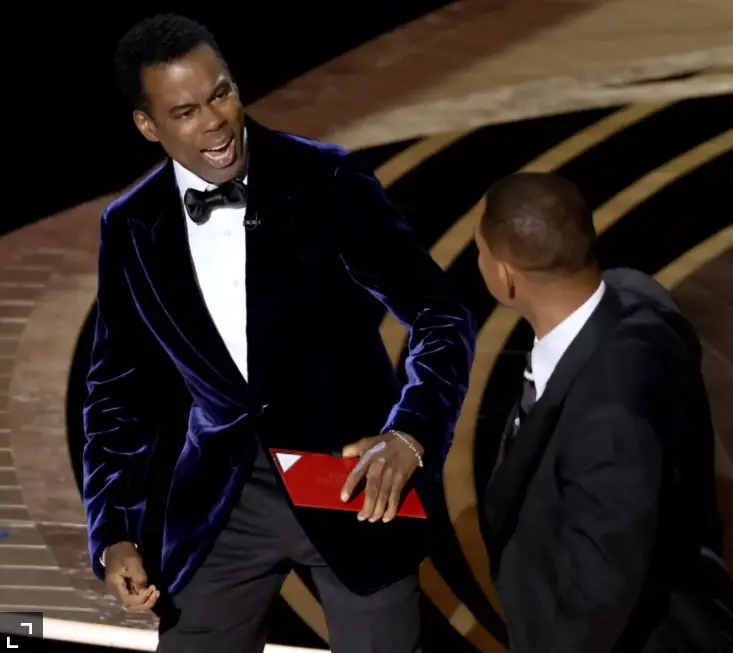 Smith seemed to laugh off the joke at first while Pinkett Smith did not seem to react at all.
It was then that Smith took to the stage and smacked Rock directly in the face.
A stunned Rock seemed as if he did not realize just how upset Smith was about what had just been said, and was caught completely off-guard by what had happened.
He took the punch in stride, and did his best to keep the show moving.
Rock Takes Smith's Attack in Stride, Keeps the Show Moving 
"Oh wow," Rock said as Smith calmly walked back to his seat.
"Will Smith just smacked the (expletive) out of me."
But Will Smith was not done reacting. It seems as though Rock struck a nerve with him, and Smith was unwilling to let it go, for the time being, anyway.
The sound on the national TV broadcast suddenly cut out as the show's producers seemingly had an idea of what was coming next.
Smith's next comments were not broadcast live, but they were shown on video after the show.
"Keep my wife's name out your (expletive) mouth!" Smith yelled toward the stage after taking his seat.

"Wow, dude, it was a G.I. Jane joke," said Rock.

Smith replied again, "keep my wife's name out your (expletive) mouth!"
"I'm going to, okay?" Rock replied.
"That was the…greatest night in the history of television," Rock said after moving on to the next award presentation.
Smith later apologized for his actions.
See video of the incident below from Entertainment Weekly and let us know what you think in the comments section.
Was Will Smith justified in his actions, and what did you think of Rock's joke in light of Pinkett Smith's recent struggles with hair loss?
------------------------------------------------------------
---