Over 15,000 people died from drug overdoses involving cocaine in 2019 according to statistics from DrugAbuse.gov, a problem that ratcheted up from 2012 to 2019 with increases seen each year.
Drug overdoses have become a huge problem both overseas and in the United States, but many possible solutions have been proposed and implemented in recent years as well.
One of them is a new product called BLOKit, the world's first surface coating designed specifically to reduce the use of cocaine and other powdered recreational drugs.
The spray was developed by founder Paul Ward with the goal of making it mainstream and supportive of a healthier environment for pub goers.
"This is the latest in a number of steps we are taking to make sure that our night time economy can flourish in a safe way," said Jonathan Dulston, director of the Darlington (UK) Council, a town that has been utilizing Ward's spray.
Ward explained how the product came about in a recent article.
"We created BLOKit after seeing a piece in an Essex newspaper about using WD40 as a deterrent to drug use," he said.
He said hat he "thought that there must be a way of producing something that was safer to use," and in six months created the product.
"We trialed the product (and) we had some great results, and things are getting back to normal and people are getting back into pubs and clubs we are rolling it out nationally," he added.
The spray is currently being used in more than 600 licensed establishments across the country, with many saying they have seen a reduction of up to 80% in elicit drug use since the spray was introduced.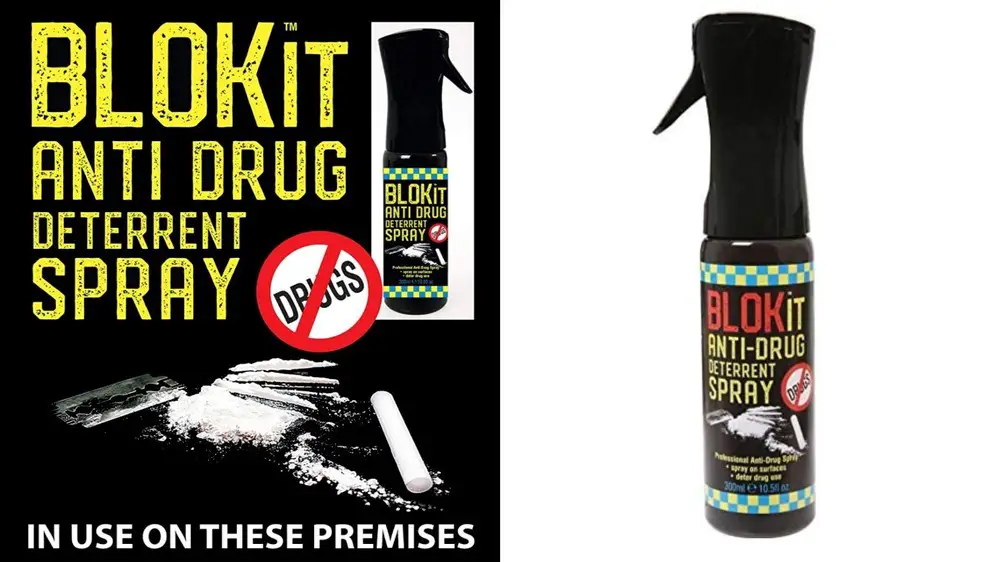 According to the product's website, the BLOKit spray is "designed to deter drug users who use surfaces to cut and snort drugs.
"Our product has been developed to impact the use of drugs in the workplace and recreation areas," it continues.
The spray works by trapping and encapsulating powdered drugs.
It swells the powder and sticks it to the surface, rendering the drug "unpalatable for taste and swallowing," according to its website.
If a prospective drug user should try to scrape off and swallow the drug, the resin will leave a disgusting taste in the mouth that lasts for hours.
The product's formula contains the "world's most powerful bittering agent," leaving an "invisible surface coating that cannot be seen," also according to its website.
In other words, it will at least make users of these potentially dangerous drugs think twice before consuming them in a public setting again.
------------------------------------------------------------
---