There are many times where it's easy to lose hope in this life. Times where it seems like nothing is going our way, when we have to watch the people we love suffer, and when it seems like things just aren't getting better no matter what we do.
This is something that many parents know all too well. It's tough keeping a level head when your child is suffering. It's tough to wake up day-after-day offering encouragement and support, not knowing when or if things will ever get better.
That's exactly what happened to parents Aliesha and Chris Smith, who are 35 and 36 years old, respectively, over the last time period of nearly three years watching over their sweet baby girl.
Her name is Adelynn, or Addy, and she was born via C-Section on December 10, 2019, at just 27 weeks and four days gestation.
Since then, the family has stayed together, coping and learning and growing and hoping as a unit.
Finally, after 848 days in the hospital and countless days on a ventilator, little Addy is heading home — and her story is a testament to what happens when you don't stop believing, and stay committed to something from beginning to end.
Addy's Conception Was a Miracle In and Of Itself 
For a while there, the Smith family did not think that Addy would ever become a part of their world.
They struggled with infertility for years and had even been told they "wouldn't be able to have children," but their instincts reminded them not to give up.
When they finally got pregnant with Addy, they were thrilled.
Mom and dad prepared mentally for the little bundle of joy they'd be bringing into the world in nine months time, and envisioned their perfect future with Addy.
It was around this time that the obstacles began entering the picture.
Addy was diagnosed with with a condition called intrauterine growth restriction (IUGR), in which a fetus grows at an abnormal rate, typically causing lower birth weight.
Addy herself was so delicate that her safety and future health was far from guaranteed, and that's when doctors realized they had a tough road ahead of them.
The Smiths knew they had a tough road ahead as well, but decided to go on with the pregnancy as an act of faith and perseverance.
'We had tried so long. It was never ever on the table, never an option to not see things through with her and not give her a chance,' Chris said to Good Morning America.
Doctors told the couple that her situation was no picnic.
Addy would need constant supervision and care, and no one had an inkling as to how long it might take for her to heal fully and completely.
That's when Aliesha and Chris decided to point their ship toward to the shore, so to speak. They decided they would continue to sail forward until little Addy had the strength she needed to come home, and be a part of their family.
With a complete faith in the process and a resignation to the fact that they were in for a battle, the Smiths decided to press forward, giving doctors the greenlight to heal her as best they could.
'This is what was meant to be,' the couple later recalled.
Little Addy is the Miracle Baby Who Refused to Give Up
Born to the Smith family weighing less than one pound, little Addy needed more than just prayers and well wishes to make it through what doctors hope will end up being the most difficult ordeal of her life.
She also needed time, love, medicine and care to heal her underdeveloped lungs.
She spent countless days on a ventilator, while her parents looked on helplessly waiting for her situation to turn around.
During her time in the hospital Addy coded multiple times, meaning she had to be resuscitated, and was kept on breathing machines and heavy medications as doctors fought to keep her alive.
April 5, 2022  — The Day Everything Became Worth It 
On April 5, all the sleepless nights and the worrying and the hospital bills became worth it — Aliesha and Chris finally got the chance to bring her home, where she has had the chance to spend time with her six-month-old baby brother.
'Team Addy' had emerged victorious.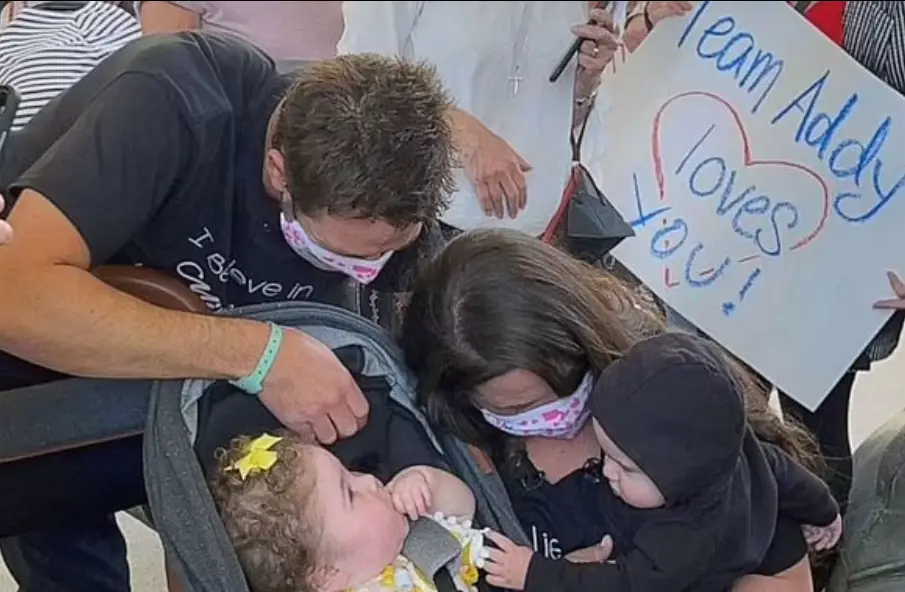 Addy has had the opportunity to meet her younger brother Aiden, whom the Smiths welcomed home last year.
While Addy is still on a ventilator, she's said to be fitting right in at home and is bond with her baby brother, according to an article from The Daily Mail.
'Our son, who is six months, we haven't been able to spend as much time with him as we would (have) liked to because we were here with Addy and we had to prioritize all that,' Aliesha said.
Her husband said that Addy's coming home party has been a 'miracle,' and they are looking forward to seeing how it all plays out in the near future.
Addy has beaten the odds before, and she will continue to do so in the near future, they believe.
'It's been miracle after miracle with her,' Chris said. 'We're both so excited to see where she goes and what she can do. And I know she's always going to continue to blow us away and surprise us.'

'She gave everyone a kind of run for their money, but she held out and she's the sweetest little thing in the whole world,' Aliesha added.
------------------------------------------------------------
---