Walt Disney World is the destination of choice for millions of kids and their parents, and it is also seen as one of the safest theme parks to visit in the United States.
The park is located on 27,000 acres, and is known for its sunshine and relatively stable climate. With four theme parks in one place, there is an unlimited amount of things to do in 'The Magic Kingdom.'
Most vacations are memorable for all of the fun times they produce, but guests at Disney World received a rude awakening recently when a completely unexpected flash flood caused trouble for thousands of people.
Despite this, many guests chose to make the most of their vacation, frolicking through the park as it slowly transformed into a scene reminiscent of the canals of Venice, Italy.
"I've Never Seen Anything Like This in 17 Years…"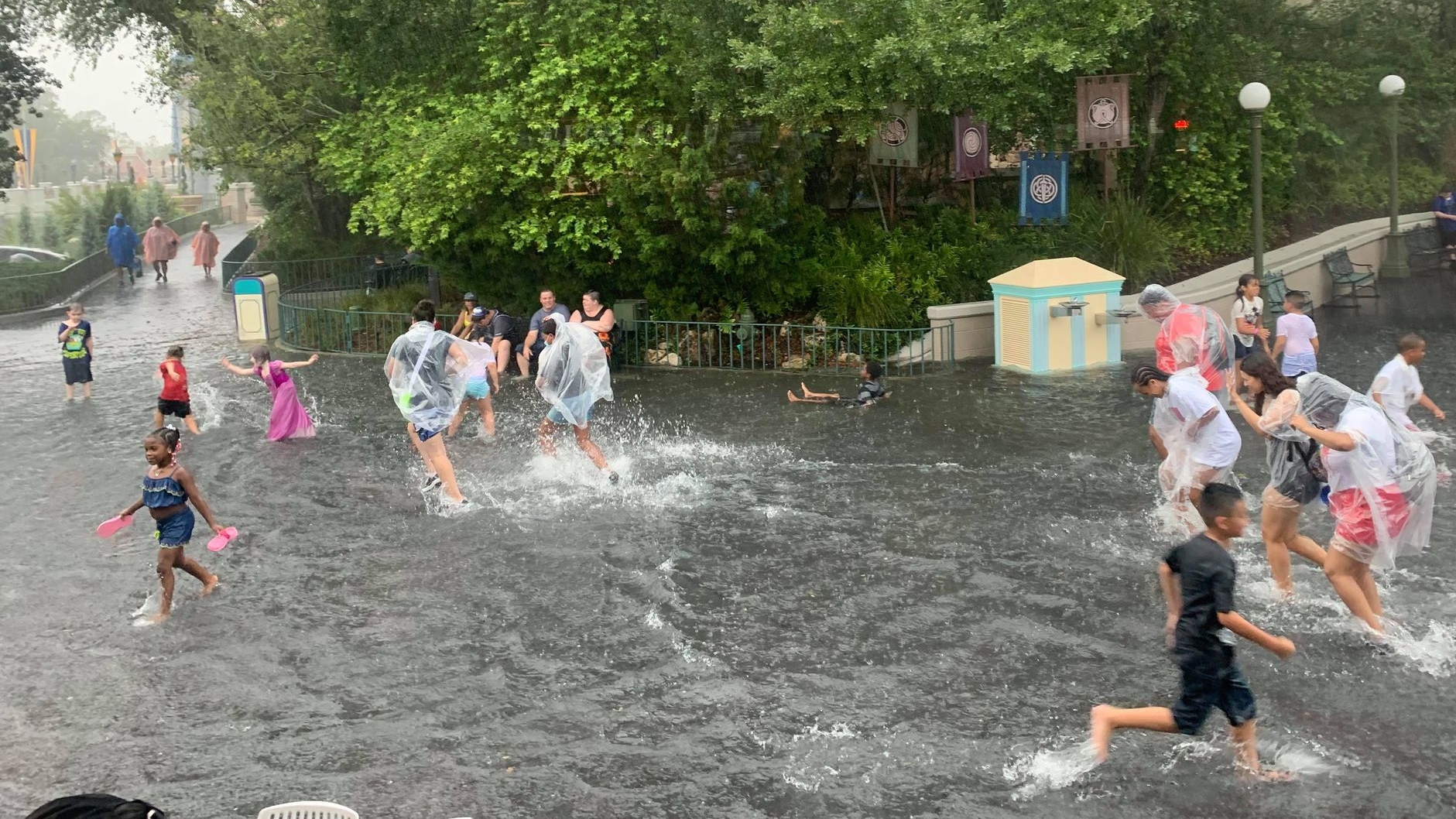 It all happened quite unexpectedly according to one social media user, who tweeted at a meteorologist saying, "Lake Buena Vista has the tri-state region beat tonight…We weren't expecting 3 inches of rain while at Hollywood Studios."
The floods happened without warning, leaving guests to wade through ankle-high waters.
One Disney cast member remarked, "(I've) never seen the likes (of this) in 17 years."
Children can be seen playfully kicking around in the water, soaking up the 'Magic Kingdom' vibes and making the most of their visit despite the sudden nasty turn of the weather.
One man deemed it "The Best Day Ever," as shown in the video below.
The charming video has racked up over 3 million views, showing Disney revelers playing in the park as 'If You Wish Upon a Star' plays in the background.
Unexpected Thunderstorm Loved By Millions 
The storm that produced the floods happened in the middle of what was being called a drought by Central Floridian meteorologists, with locals and tourists alike welcoming the coming of the rains.
As you can see below, the Disney guests wasted no time making this one of the most memorable times of their lives.
Perhaps it will remind you of the famous quote attributed to Bob Marley,

"Some people feel the rain. Others just get wet."
Next time unexpected circumstances hit in your life, remember these videos, and be sure to make the most of your experience.
In other words, take time out to be happy regardless of what happens!
And more footage from a very wet @WaltDisneyWorld @DisneyParks Hollywood Studios after a very intense band of t-storms moved through. #florida pic.twitter.com/I5pdZT0bWt

— Sara Thornton (@SaraThornton1) March 8, 2022
@nynjpaweather Lake Buena Vista has the tri-state region beat tonight. We weren't expecting 3" of rain while at Hollywood Studios. pic.twitter.com/FBnNHh8msU

— Ed Holmstrom (@ed_holmstrom) March 8, 2022
------------------------------------------------------------
---