Elk are one of the most majestic creatures at the vast expanse of pristine land known as Yellowstone National Park, but they spend a lot of time contending with and escaping from wolves, making life more difficult than usual at times.
These hooved creatures can reach up to 1,200 pounds, making them a menace to any car, person, or most animals that come across their paths.
Recently, one elk was in for the escape of a lifetime at the park, as it found itself in the crosshairs of hungry wolf.
The elk did its best to escape, and ended up causing quite a scene, as you will see in the video below.
Elk Sprints Directly Into the Side of Oncoming SUV
If you've been watching a lot of nature videos lately, you've probably seen the famous one in Kruger National Park, where a large cape buffalo being chased by lions purposely rams into the side of a tourists' vehicle to create a massive earthquake of sorts, allowing it to escape the hungry predators.
In that case, the buffalo saw the vehicle coming.
This time around in Yellowstone, the elk in the video below doesn't seem to have any clue what he or she is in for, as an SUV cruises down the road at a steady rate of speed. 
It all happened when the driver, Matt Fluke of Idaho Falls, began looking for a place to enjoy a midday picnic with family.
While driving, an elk suddenly sprints out of the woods.
As it turns out, the animal wasn't just crossing the road, it was running for its life. 
It all goes down as the elk slams directly into the side of the car, knocking itself out. 
Milliseconds later, a wolf is shown sprinting out of the woods in hot pursuit.
"I didn't look at my dashcam video until I got back to where we were staying at," Fluke said.

Originally I thought it happened behind that car.

We pulled over for a second and saw the elk on the road and the wolf with it."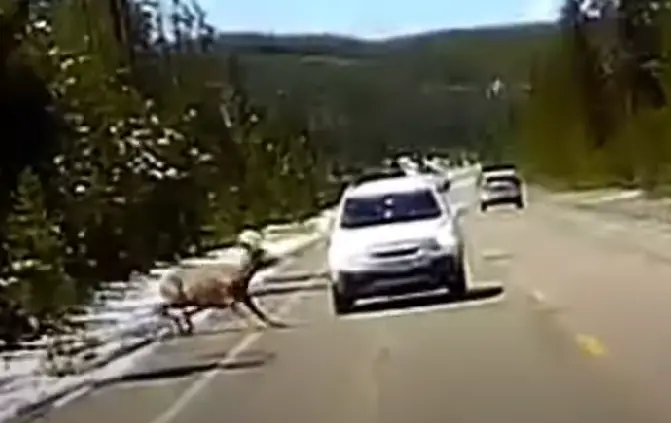 Check out the video below. If you look closely at the still frame above, captured toward the end, you can see that the elk tried its best to "put on the brakes" before the fateful collision.
Needless to say, you never know what you'll see at a national park like Yellowstone.
Have you ever seen anything like this on your travels?
------------------------------------------------------------

---