If you haen't yet heard, Steve Irwin's biographer Tommy Donovan has revealed the wildlife conservationist's tragic death was caught on tape. Steve Irwin was the 'croc hunter' that quite literally wrestled crocodiles on television.
Yesterday (September 4th) was the 16th anniversary of the famous Crocodile Hunter's death.
As heartfelt messages poured in for the beloved Aussie from all over the world, the location of this tape has remained a mystery since his death.
Irwin was killed not by a crocodile, which you'd think would be his biggest risk but instead a stingray just off Australia's Great barrier reef in back in 2006. He was attempting to capture footage of a normally harmless stingray when disaster struck upon him.
As Irwin, the beloved Croc Hunter made it towards him. He went near the creature, it raised its tail and stabbed him.
Which, as it turned out and Donovan later explained, was all caught on tape.
Why? Well, Steve had a rule for his show: "He tells his camera crew to always be filming." So they were.
The biographer continued: "If he needs help he will ask for it. Even if he is eaten by a shark or croc, the main thing he wants is that it be filmed. If he died he would be sad if no one got it on tape."
And that's what exactly happened after his cameraman Justin Lyons caught the attack on camera live, at first not realizing the severity of the situation at hand.
The two of them had been trying to gather footage for his daughter's TV show, entitled: Bindi the Jungle Girl.
"It should have been an innocent encounter for a TV show aimed at children," John Stainton, the director of the show, explained.
When Lyons ended up getting him back onto the boat, Irwin 'was having trouble breathing'. That was the first big red flag that this wasn't a little sting. This was a big one.
He said: "Even if we'd been able to get him into an emergency ward at that moment we probably wouldn't have been able to save him because the damage to his heart was massive.
"As we're motoring back I'm screaming at one of the other crew in the boat to put their hand over the wound and we're saying to him things like, 'Think of your kids, Steve, hang on, hang on, hang on."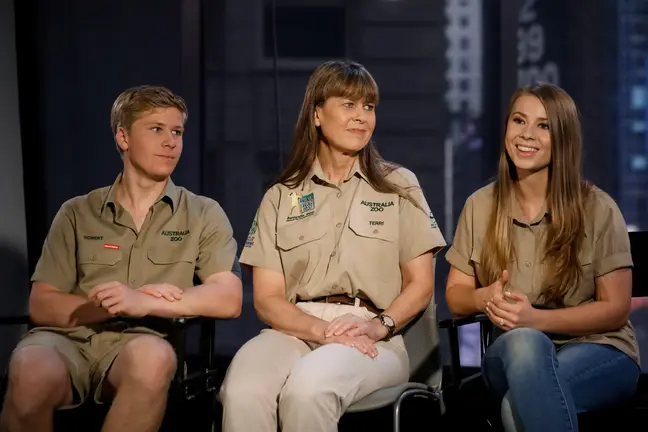 Steve Irwin's Son, Wife, And Daughter have not seen the tape of the death of their father.
Unfortunately, Irwin succumbed to these injuries, with the entire attack, Lyon and the paramedic's attempts to save him all caught on camera during this event.
The tape was then passed on to authorities to aid in their investigations of the incident.
Once returned to them, Discovery Communications, the television network that propelled Irwin's career and fame, said that the footage would 'never see the light of day'. Understandably so. This was him being stabbed in the chest, and in massive pain, caught on camera.
Stainton, who was a close friend of Steve Irwin's, then went to say that 'it should be destroyed'.
"When that is finally released [after investigations], it will never see the light of day. Ever. Ever. I actually saw it, but I don't want to see it again," he told Larry King Live.
All copies of the tape were destroyed following investigations, except one – that copy was reportedly given to Irwin's wife, Terri who is said to have destroyed the tape without watching it.
Recommended Reading:
Rare Footage of Steve Irwin's Final Moments Surfaces on the 15th Anniversary of His Tragic Death
Steve Irwin's Young Son is an Award-Winning Photographer, and These Are the Photos That Prove It
------------------------------------------------------------
---