Twenty-six-year-old Post Malone, also known by his real name Austin Richard Post, is one of the top selling artists of his generation, amassing 95 million digital singles sales and 13 million album sales over the course of his career.
Thank ranks him number eight among all-time digital song sales.
The Syracuse, New York native was also ranked as the 10th Top Artist of the 2010s by Billboard Magazine.
Even with his immense success and fame, Post still has no problem taking time out for fans, as evidenced by a viral video that shows him enjoying a moment with a fan on his birthday that has gone viral in recent days.
Fan Shares a Birthday Drink With His Idol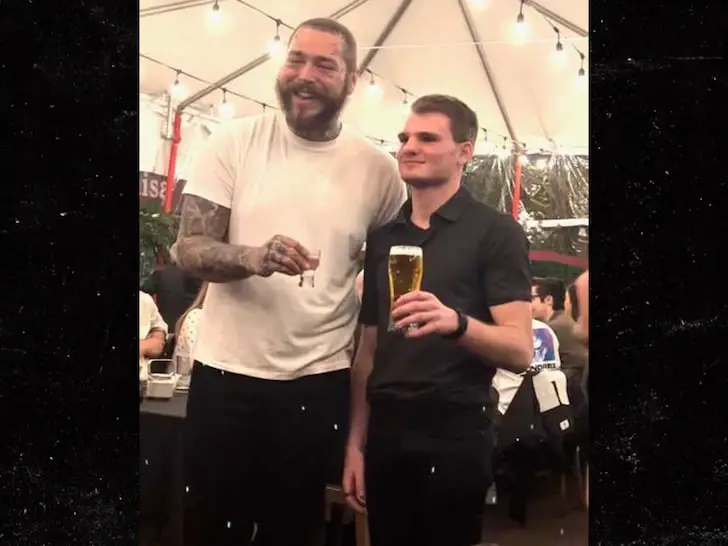 The situation occurred when Nicole Schumacher and her son Andrew said they ran into the rapper at Matsuhisa Restaurant in Beverly Hills, California while celebrating the boy's 21st birthday.
Andrew decided to get a beer for the momentous occasion, and Post took note of it.

"Have fun, but not too much fun," he joked with Andrew.
The encounter was especially noteworthy considering that Andrew, who is on the autism spectrum, has difficulty interacting with strangers and often runs into people who aren't very patient with him.
Ironically enough, the international superstar had plenty of time to spend with his young fan, so much so that he managed to make his birthday.
Celebrity Rapper's Sweet Meeting With Autistic Fan Has Gone Viral
"I love celebrities who are nicer than most regular people," one commenter wrote in response to the video.
"He's a dude that got famous and rich and never forgot who he was. His music is good too," another said.
While most of us will never possess even a fraction of the fame that Post currently has, this video is an excellent refresher about how important the little things are in life.
Taking the time out to speak and listen with someone just might make their day.
As the old saying goes, "everyone is fighting a battle we know nothing about. Be kind, always."
This video is a shining example, and is incredibly heartwarming to watch, especially if you have an autistic child or know someone else who has one.
------------------------------------------------------------
---