As dog owners, we want to keep our furry companions healthy and happy. One aspect of their health that often goes overlooked is their susceptibility to worms and parasites.
While there are plenty of commercial deworming medications available, many pet owners are looking for natural alternatives. Fortunately, there are several human foods and herbs that can be given to dogs to help prevent these pesky parasites from taking hold.
In this article, we'll explore some of the best natural remedies for keeping your dog healthy and free of worms and parasites.
Dog parasites and worms are a common health concern among pet owners. These organisms can infect dogs of all ages and breeds, and if left untreated, they can cause serious health issues.
Worms and parasites can be found in a dog's intestines, lungs, and other internal organs, and can cause a variety of symptoms such as weight loss, vomiting, diarrhea, and lethargy.
There are many types of dog parasites and worms, each with its own unique characteristics and health risks. Some common types of parasites include fleas, ticks, and mites, while common worms include tapeworms, roundworms, and hookworms. These parasites and worms can come from a variety of sources, such as contaminated food and water, infected animals, or even through the soil and grass in outdoor environments.
Dogs Can Get Infected By Worms Or Parasites in Many Ways
One of the most common ways is through ingestion of contaminated food or water, which can be contaminated with eggs or larvae of these organisms. Dogs can also become infected through contact with other infected animals or through exposure to contaminated soil or feces.
Additionally, parasites like fleas and ticks can attach themselves to a dog's skin and transmit harmful diseases and infections. It's important to note that prevention and early detection are key to keeping your furry friend healthy and free from parasites and worms.
There are many tried and true home remedies for worms in dogs. Natural dewormers are a much safer choice, as conventional deworming drugs can carry some nasty side effects.  There are many foods and herbs like pumpkin seeds and black cumin seed that are both safe and effective natural dewormers for dogs.
The best natural dewormer for dogs is a healthy diet that helps build a strong immune system. Your dog's IgE antibodies can attack and destroy worms on their own … so support their immune system with healthy foods that include good amounts of zinc, vitamin D and other immune boosting nutrients.
"Human" Foods and Herbs that can Help Prevent Worms and Parasites
Start slowly with all these remedies if your dog isn't used to eating them, and work up to the recommended dose.
1. Fermented Foods
Fermented foods help expel worms by boosting your dog's immune system. Almost 90% of the immune system is in the gut … so adding fermented veggies to your dog's diet can help improve his gut health and defend him from parasites.
You can buy fermented veggies or make your own. Start slowly with fermented veggies and work up to 1 to 3 tsp per day per 20 lbs of body weight.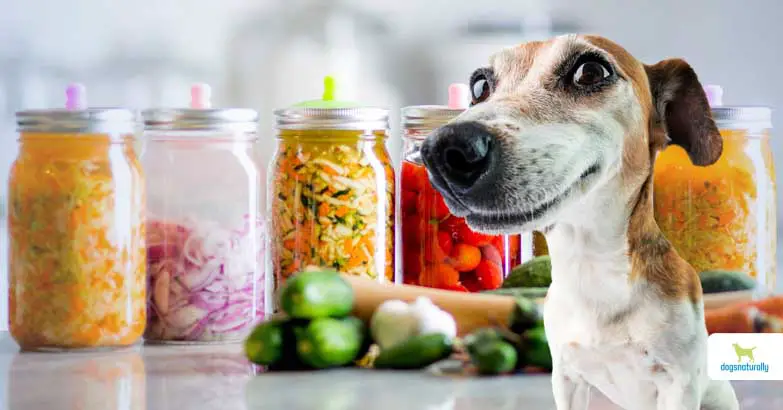 2. Pumpkin Seeds
One of the safest and most effective ways to treat worms is with pumpkin seeds. That's because pumpkin seeds contain an amino acid called cucurbitin.
Cucurbitin paralyzes the worms and eliminates them from your dog's digestive tract.When feeding your dog pumpkin seeds, use raw organic seeds. Don't give your dog the salted seeds, which are not safe for dogs to eat!
Grind seeds and give ¼ tsp per 10 lbs of weight once or twice a day until the parasites are gone. Pumpkin seeds are safe for pregnant dogs.
3. Black Cumin Seed
People call black cumin seed "the cure for everything except death." It's very safe and can work for most worms. If possible, try to buy whole seeds. In a pinch, you can use black seed oil but if you do, halve the dose.
Give your dog ½ tsp to 1 tsp of seeds daily in his food. If your dog doesn't like the taste you can heat the seeds in a pan to get rid of the bitter taste.
4. Fruits And Vegetables
You can add certain fruit and veggies as a natural dewormer for dogs. They'll make your dog's digestive tract less welcoming. Good choices include carrots, cucumber, watercress, greens, squash, and fennel.
Pineapple is also a good choice. It's full of bromelain, an enzyme that digests proteins. It can also boost your dog's immune system to help him fight off the worms. Another enzyme called papain, in papaya, can also help combat worms.
Pomegranate is useful for fighting off tapeworms. Compounds in pomegranate help expel worms from the digestive tract. Watermelon can also help by keeping your pup hydrated.
Add at least 1 tsp of any of these fruits and veggies per 10 lbs of body weight to your dog's meals twice a day. Veggies in your dog's diet can also provide a much-needed source of fiber.
5. Garlic
for
Worms and Parasites
Garlic is another natural dewormer for dogs. If you give it to your dog in moderate amounts it can be a good way to fight worms. In fact, garlic can be as effective as conventional dewormers.
Use chopped raw organic garlic and let the garlic sit for 10 to 15 minutes before giving it to your dog. This will help release the beneficial compounds that fight off the worms. Then you can give your dog the following amount.
Small dogs – up to ¼ clove twice a day
Medium dogs – up to ½ clove twice a day
Large dogs – up to ¾ clove twice a day
Giant breeds – up to 1 clove twice a day
Caution: Don't use garlic as a worm remedy for pregnant or lactating dogs, or if your dog is on blood thinners.
6. Apple Cider Vinegar (ACV)
Apple cider vinegar has many benefits as a natural dewormer for dogs. It creates a more alkaline digestive system that's less attractive to parasites. Use raw, organic, unfiltered vinegar and give ¼ to 1 tsp per day in your dog's water or food.
7. Thyme
Thyme is especially useful for hookworms. In their book Herbs For Pets, herbalists Greg Tilford and Mary Wulff recommend that you use fresh or dried herbs. Add 1 tsp per pound of food.
Caution: Do not use thyme essential oil on your dog as it can be toxic. You shouldn't use thyme in any form for pregnant or lactating dogs.
8. Parsley
You can also use parsley as a simple natural dewormer for dogs. Cook fresh parsley down and strain out the solids, then freeze it into ice cubes. Give one cube daily.
9. Bone Broth
for worms and parasites
Bone broth helps promote digestive health, which helps the immune system kill worms. It's especially effective around the full moon.
Add a few tablespoons to your dog's food or feed as a separate snack. You can also add some pure aloe juice for an extra boost.
10. Diatomaceous Earth (DE)
You can use food-grade diatomaceous earth to reduce the number of worms in your dog. But it may not be helpful if your dog has tapeworms. Small dogs – 1 tsp per day Dogs over 55 lbs – up to 1 tbsp per day
Caution: Make sure you mix the diatomaceous earth into your dog's food very well. If your dog inhales it, it can irritate his lungs. Do not use DE for pregnant or lactating dogs.
11. Olive Leaf
Olive leaf extract contains oleuropein, which can help expel parasites from your dog's intestines. Look for an extract with 12% oleuropein or higher and give it for 8 weeks.
Small dogs – 300 mg twice daily
Medium dogs – 500 mg twice daily
Large and giant dogs – 1000 mg twice daily
Natural Anti- Worms and Parasites Food Supplement Recipe
Herbs For Pets recommends this combination for worms in dogs.
2 parts unsalted, raw pumpkin seeds
1 part garlic powder
1 part fennel seeds
1 part yucca root
Mix the ingredients together. You can grind the pumpkin seed or leave them whole. Add 1 tsp per pound of food daily. Tilford and Wulff recommend you feed this mixture for 5 days then take 2 days off. Continue until your dog no longer has worms.
Caution: Don't use this mixture for pregnant or lactating dogs.
These foods are all gentle, natural ways to help get rid of your dog's intestinal worms. And they're a whole lot safer than giving your dog conventional deworming medication.
Preventing worms and parasites in dogs can be done in many ways, and natural remedies such as human foods and herbs are a great place to start. By adding certain foods and herbs to your dog's diet, you can provide them with an added layer of protection against these pesky parasites.
It's important to keep in mind, however, that these natural remedies should not replace regular veterinary care and deworming medications. Always consult with your veterinarian about your concerns. With a little extra care and attention, you can help keep your furry friend healthy, happy, and free from worms and parasites.
Recommended Dog Health Support:
Recommended Reading:
------------------------------------------------------------

---