Pop sensation and worldwide celebrity Britney Spears is usually quite confident on social media, sharing news of her latest life happenings as well as positive messages for her fans to enjoy.
Recently, Spears admitted a fear that she has been holding onto for quite some time, however.
The 'Hit Me Baby One More Time' performer announced just days ago that she is expecting her first child with fiance' Sam Asghari.
Now, she is sharing her biggest pregnancy fear with her fans, in a manner that has people debating, wondering and talking about what could happen next.
'I Don't Think I've Seen This Many Documentaries on Someone Unless…' 
The Grammy winner told her 40.7 million Instagram followers about her latest pregnancy fears on Saturday.
'I don't think I've ever seen that many documentaries on someone unless they are dead!!!' she captioned the snap. I mean was that even allowed???? Again OH WELL, it's perspective you know???'
She admitted the is 'scared to have a baby in this world' even though she already has two children with former backup dancer Kevin Federline, who released his own well wishes for his ex-wife recently.
Spears shared a black-and-white throwback photo of herself cradling her baby bump in a silk lace gown. She put on 'the same gown she wore 16 years ago' to get in the mood.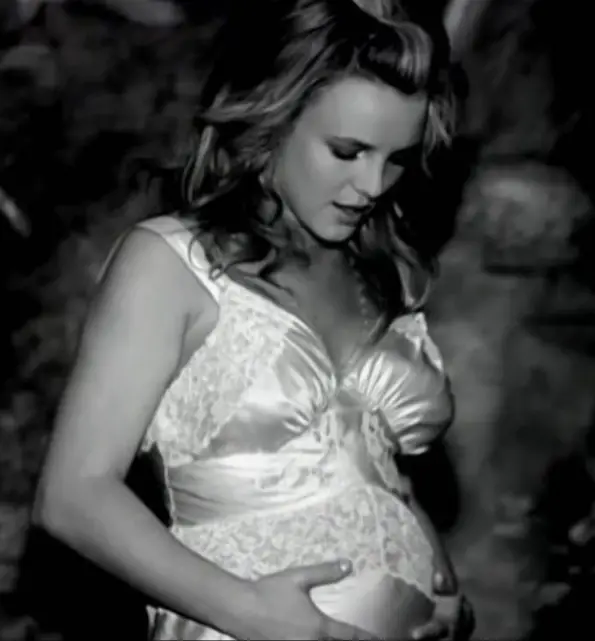 The 40-year-old superstar voiced her fears, adding that multiple documentaries were released about her 13-year-long conservatorship in the recent months.
She added that she will be practicing self-care by sipping on Kate Hudson's new line of tea, INBLOOM.
Spears also referred to Asghari as her 'husband' in the post, fueling speculation that she may have secretly married him.
Is Britney Right? Should We Be Afraid of Bringing Children Into Today's World?
With so many difficulties in the world today, it's no wonder that a mother like Britney would become concerned about how things will be for her third child in the coming years.
Asghari seems confident, however, and ready for the job.
'Fatherhood is something I have always looked forward to and I don't take lightly. It is the most important job I will ever do,' he said, sharing the artwork seen below on his Facebook page.
With this information in mind, the question I have is, what do you think about this news?
Would you be concerned about bringing a child into today's complex world, or is it something you've never really thought of before?
 

View this post on Instagram

 
------------------------------------------------------------
---