When some people get to a place in their life where they can take it easy and golf daily, they hang up the hat and move on. Not everyone is that way however. Some people take a break and go back to a creative outlet that inspires them. David Savage is one of those people, but his story is a bit different.
After being diagnosed with MS he decided to make the most of it. Instead of letting this condition dampen the rest of his life, and experience as a whole he decided to make the best of it.
There are many disabled woodworkers who have overcome challenges to pursue their passion for woodworking, and each of them can be an inspiration in their own way. One notable disabled woodworker is David Savage, a British furniture maker who was diagnosed with multiple sclerosis (MS) in 2000. Despite his diagnosis, he continued to create stunning and intricate pieces of furniture using traditional techniques.
Savage founded the Rowden Atelier School of Fine Furniture in Devon, UK, where he taught aspiring woodworkers the art of fine furniture making. He also wrote several books on woodworking, including "The Intelligent Hand" and "Furniture with Soul." Savage's work has been exhibited in galleries and museums around the world, and he has received numerous awards and accolades for his craftsmanship and dedication to his craft.
What makes Savage particularly inspiring is his determination to continue working and creating despite his physical limitations. He has said that his MS has forced him to slow down and work more deliberately, but that it has also given him a new perspective on life and work. His dedication to woodworking and his willingness to share his knowledge and skills with others is a testament to the power of perseverance and creativity in the face of adversity.
David is known for his unique furniture style and over 30 years of experience in the field. He is also a teacher of woodworking and contemporary furniture design at Rowden Farm Atelier. Recently, David released his book, Furniture with Soul, which delves into the journeys and work of 20 accomplished woodworkers in the contemporary era. For woodworkers looking for helpful information, his website offers a wealth of resources, including a sporadic but informative newsletter.
One of the stories in David's newsletter was particularly compelling. It recalled a memory from his youth when his girlfriend's father, Ken Bulmer, who was a joiner in the 1960s, helped David create a book cabinet. Using only plywood and some pieces of reddish wood with a dark, shiny veneer that Ken had salvaged from a previous job, the two of them quickly and efficiently constructed a functional piece of furniture. This experience inspired David and instilled in him a passion for woodworking, a sense of satisfaction that can only be attained by creating something with one's own hands. David acknowledges that this feeling of satisfaction is something the world needs more of, rather than just buying pre-made items and simply nailing them together.
See David's Creative Work:
After graduating from the Royal Academy School in 1974, David Savage joined The Public Arts Workshop led by Desmond Rochefort. Together, they collaborated on the Royal Oak Murals in Paddington in 1977, which was unfortunately mostly destroyed. Despite this setback, the success of the Royal Oak Murals led David to be invited by local residents to spearhead the Cable Street Mural Project. From 1977 to 1980, David worked tirelessly to raise funds for a 70-foot high mural depicting the Battle of Cable Street on the wall of the former Stepney town hall on Cable Street. The mural portrays the resistance of the mostly Jewish community against the passage of Oswald Mosley's fascist Blackshirts on October 4, 1936.
David poured his heart and soul into the project, but unfortunately had to part ways with it unfinished after it was vandalized in 1982 with negative slogans. He left feeling disgusted and hurt by such despicable actions. Nevertheless, the other artists involved in the project eventually completed the mural. See the mural here: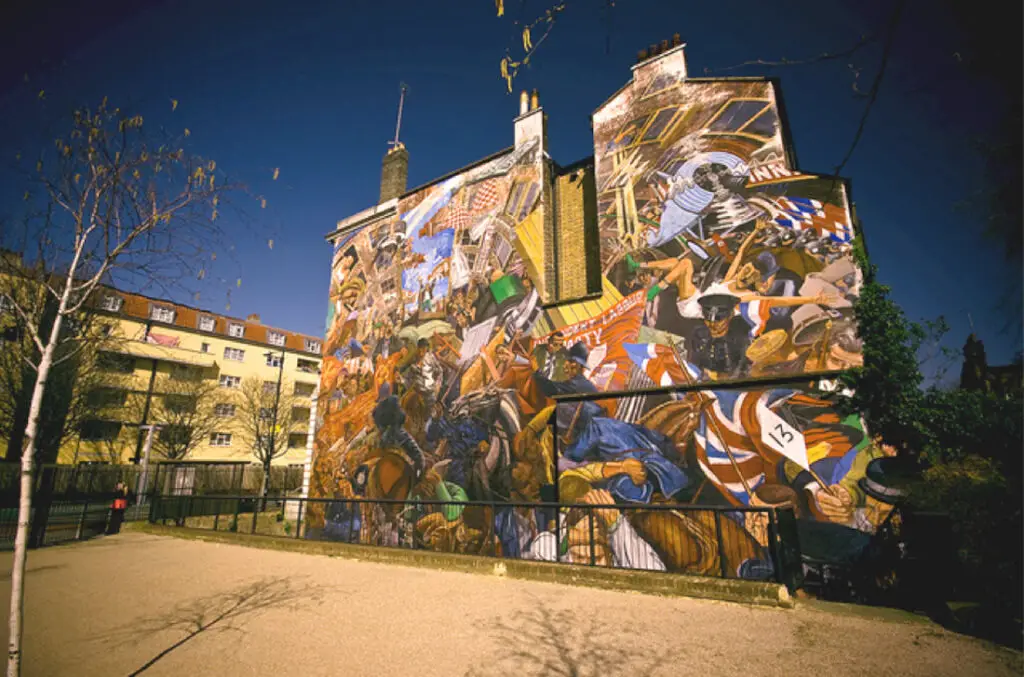 David's Love Chair Design:
One of David Savage's most recognizable furniture designs is his "Love Chair," which has been in production since the early 1990s. This chair is a work of art, featuring a flowing, organic design that incorporates curves, twists, and turns. Each Love Chair is made by hand, with great attention to detail and a commitment to using the finest materials.
What sets David Savage's chair design apart is his focus on creating furniture with soul. He believes that furniture should be more than just functional; it should be a work of art that inspires and moves the person who owns it. His chairs are not just pieces of furniture; they are expressions of his creativity and passion for woodworking.
In addition to the Love Chair, David Savage has designed many other unique and distinctive furniture pieces, including tables, cabinets, and benches. He often incorporates unusual materials into his designs, such as metal, stone, and even fossils. His furniture is characterized by its innovative design, high quality craftsmanship, and attention to detail.
See David's inspiring woodwork here:

Overall, David Savage's chair design is unique because it combines artistic creativity with exceptional craftsmanship. His furniture is not just functional; it is a work of art that embodies his passion for woodworking and his commitment to creating pieces that have soul and meaning.
You can get Furniture with a soul by David Savage here: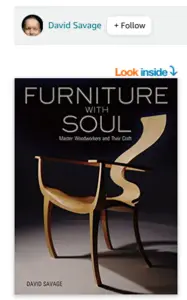 ------------------------------------------------------------
---