Finland is not exactly not know as a popular tourist destination throughout most of the world, but the country boasts stunning wildlife, Northern Lights, unforgettable landscapes and so much more.
Recently, a wildlife photographer named Valtteri Mulkahainen shared the following captures of a surprising scene in the woods of Finland that looks like something out of a Disney movie.
As Finland is a Nordic, wooded country along with Denmark, Sweden, Iceland and Norway, sightings of bears are quite common — but rarely has any photographer captured pictures of baby bears quite like these.
The trio of dancing bears has made headlines worldwide, and become a viral sensation as people struggle to find ways to come to terms with the overwhelming cuteness these bears have exhibited.
What do you think they look like?
To me, they remind me a lot of small puppies standing up to greet people in the neighborhood after a morning walk.
Photos by: Valtteri Mulkhainen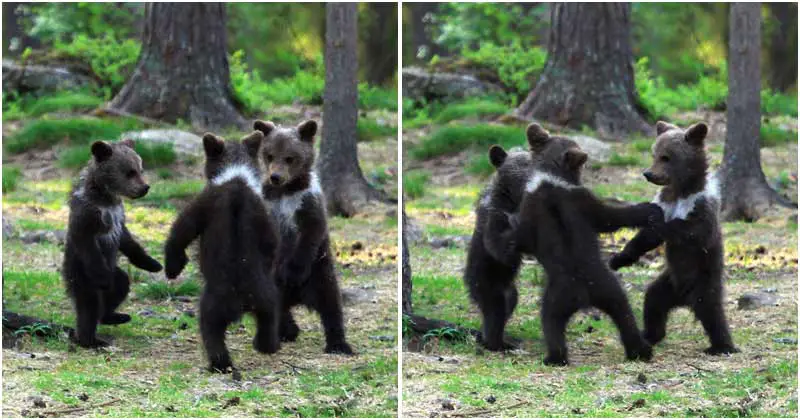 After the proverbial meeting of the minds shown in the first picture, the adorable little cubs appear to be playing a human-style game of Ring Around the Rosie (remember this game)?
These bears may seem cute, innocent and approachable, but if you ever see them in the woods yourself be sure to approach with caution.
As Mr. Mulkhainen's next photo shows, the mama (or perhaps papa?) bear was seen nearby, and she or he is an imposing and most likely protective figure to say the least.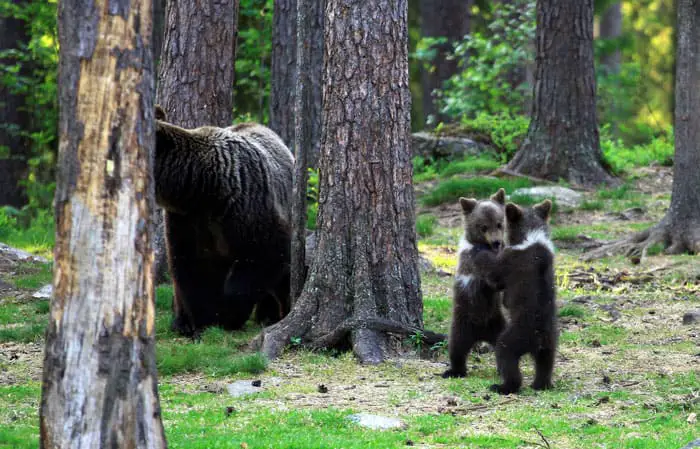 Mr. Mulkhainen is an amateur photographer and physical education teacher from Sotkamo, Finland. He got a chance to capture the three adorable cubs on film in the sixth year of his photography career.
The result is a series of photos for the ages that has delighted young and old worldwide since their release.
Aside from their initial playdate, the cubs also began climbing trees.
Hopefully, there were no raccoons or possums in the general vicinity!
Another one of the cubs appeared to be clapping his hands in delight as the day's events unfolded.
And as you will see in this seventh and final picture, there was a little playfighting involved.
This is the wild, after all, and these are still bears.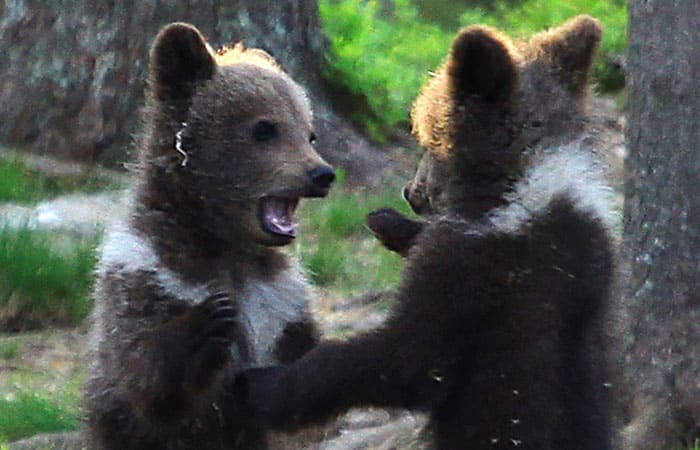 These pictures were taken in a shelter about 50 meters away from where the bears were located, according to the website Paws Planet.
"The bear cubs behaved like little children," Valtteri told Bored Panda.
According to the photography tutorial website NatureTTL.com, the top nature photography cameras for this year include the Nikon D850, the Sony A9 ( the special edition full frame mirrorless version can be purchased here), and the Canon 5D Mark IV among others.
If you do get a chance to go out and take wildlife pictures, make sure to be safe, and bring along plenty of food, shelter, and water as well as tools for navigating your way out should you get lost.
Special thanks to Bored Panda and Mr. Mulkhainen for these awesome photographs!
------------------------------------------------------------
----------------------------------------------------------------------------------------------------
---
---
---